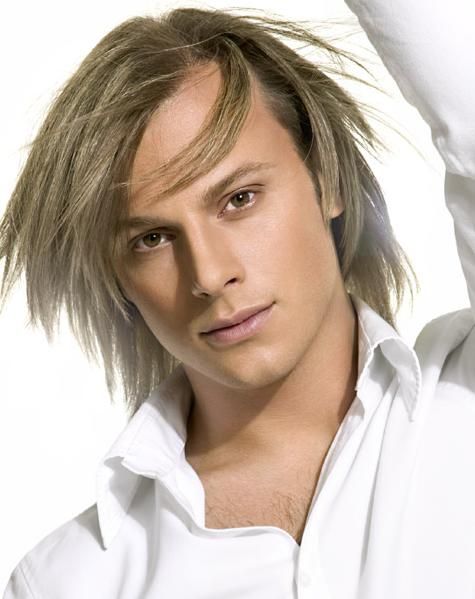 I have firmly believed that the Swedes have controlled the Pop music industry for the past two decades, as songwriters and as producers. Max Martin and Andreas Carlson were two of the biggest names associated with Pop hits, writing & producing for acts like Kelly Clarkson, Pink, The Backstreet Boys, Westlife, Britney Spears, 'N-Sync, Celine Dion, Avril Lavigne, Adam Lambert and countless others. It was in Sweden in the early 90s when a little known performer by the name of Magnus Carlsson was the lead vocalist for a dance-oriented band, Barbados, and took them to the top of the charts. In 2003, Magnus moved on to the Pop band Alcazar, joining his [then] boyfriend Andreas Lundstedt, who was with the band since it started in 1998. Alcazar went on hiatus in 2005, and Magnus pursued a solo career. He and Andreas were no longer together. When the band reformed in 2007, Magnus did not rejoin them.
From what I can tell, Magnus has been out and proudly gay for most, if not all of his career. I don't really remember when I became aware of his music, but I have been a fan. I just remember my first thoughts about him were "Damn, this boy is beautiful, and he can sing!" I was reminded by Ricky Morgan, my FaceBook friend, about him, and he told me Magnus' latest release was on iTunes. I couldn't resist, and clicked my way to being the proud owner of
Pop Galaxy
, his latest. in fact, I was able to purchase the
Bonus Version
with 23 tracks, all for just $9.99 - what a bargain! You can check it out
here
. I later discovered you could purchase the same on Amazon.Com for only $8.99
here
.
OK, we all know my musical taste knows no bounds, and that includes the delicious Pop that Magnus serves up, with an 80s retro-vibe burning strong. Take, for instance, my favorite song off the album,
Feel You
. I swear the minute it comes on, I am out of my seat dancing. I find his voice just irresistible, and when I saw the video, I was well aware from the beginning that his charming smile had me captivated.
For me, the album holds a great amount of joy and happiness, as does most of his music. There is a fantastic familiarity to the music, with it's retro vibe. The songs remind me of the 80s/90s groups like ABC, Erasure, and others. Most of it is dance/pop, which is okay in my book. Take the second cut on the album,
Best In Me
. For some reason, I am thinking Martin Fry of ABC, with just scrumptious vocals, really fun stuff. Here is a performance in a TV studio.
He did a cover of the Erasure song
A Little Respect
, and did a great job. Now, it would be damn near impossible to touch the original, as Andy Bell is incredible. But an added element to it is the interesting video produced for the song, which has such odd elements, like the clusters of bowling balls in the skies. But hey, it is Magnus, and most of the time I am looking at him anyway.
Now, I would be remiss if I didn't bring up a single he released in 2008 that raised money for the LGBT outreach programs to Swedish schools. The song,
I Was Born That Way
, was performed at EuroPride '08, and here is the clip. The first 1:30 is an interview in his native tongue, and I don't speak Swedish, so I don't have a clue, but the song is great fun, and very in your face.
You can find more about Magnus at his online site
here
, but only if you read Swedish. I don't. I did a bit of Google translate, but still was a bit lost. But I can listen to his music there! However, you can hit the links above and purchase his music on iTunes or Amazon. He is a gorgeous man, with plenty of talent. I am telling you, I am beginning to think that maybe I need to put Magnus on my list as possible next husbands, you know?