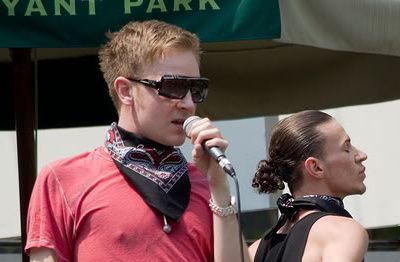 I thought I would take a moment this morning to wish a very happy birthday to Adam Joseph, an out artist I have enjoyed for a couple of years now. I first ran across his music by happenstance, hitting on the video for
Flow With My Soul
, and I was immediately sold. Not only was the boy cute, he could really sing! And he writes his own material. I was impressed, and went out to download his album,
How I Seem To Be
. All because I caught this amazing video.
Once I listened to the album, I couldn't believe this boy wasn't a bit hit. His soulful stylings were just amazing, so silky smooth. When I listened to
You're Mine
, I thought the sound was so sweet yet sexy, but when I saw the video, just Wow!
Now, the next video I saw was on the release of a new song,
Faggotty Attention
. Yep, that title made me go "hmmmm" too. Yet it was only a matter of getting through part of the video that made me sit up, take notice, and go to iTunes to buy the song! A song that can make me dance, make me smile, and make me think, all in one? That is a total score.
Just over a year ago, Adam released a song in support of the Marriage Equality movement in New York. He covered an old song some of us remember from the good old days, and others might remember from
Priscilla, Queen of the Desert
. Adam took
Finally
, shook it up a bit and came out with a new spin on the song, making it all kinds of new and special. And there was a video, and it was very special.
So, I am taking the opportunity to send out my birthday wishes to Adam Joseph, and hope you find his music and amazing as I do. For more about Adam, check out his offical website
here
. You can find How I Seem To Be on iTunes
here
, or on Amazon.Com
here
. You can pick up a great album for under $9, and support fantastic LGBTQ music. And have a bunch of kickin' songs on your iPod.