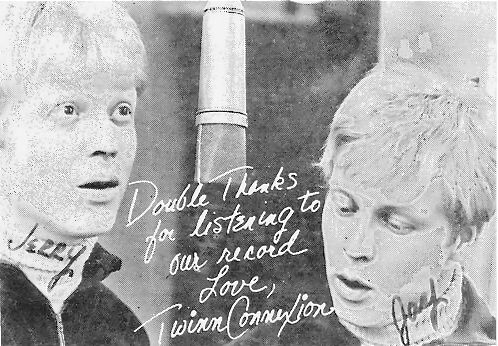 I know there are at least one or two of my gentle readers who might be asking, "Who is Jerry Hopkins, and why are you giving him a birthday shout out?" Well, my friends, Jerry is a recovering Pop Star, having been one-half of a recording duo in Twinn Connexion. Jerry, along with his identical twin brother Jay, moved from their hometown of Helena, Montana, to the New York City in 1963. The boys had stars in their eyes, having been theater majors at the University of Montana. Soon they were playing the clubs and bars in Greenwich Village, including the prestigious Bitter End. By 1968, they were signed and recording their first album. The music was light, bright, airy and breezy, as was much of the Pop music from the period. The opening track from the album was
Sixth Avenue Stroll
, which I find irresistible and charming.
The album sold well in the Midwest, but even with positive reviews, it was decided to not record a second album. Jay went to work on Wall Street, while Jerry went back to college, focusing on the fine arts. The music might have been forgotten, but in the new millennium, there was a resurgence in interest of what has become known as Sunshine Pop, and, more specifically, in the Twinn Connexion. Unfortunately, Jay passed in 2001 and was not able to know this. But Jerry, now an established painter and artist living in Woodstock, New York. Here is another cut from the album,
I Think I Know Him
.
I have to admit, I really wasn't aware of the Twinn Connexion until I read an exceptional interview by Marc Harshbarger of Deep Dish. Check it out
here
. There you can read a much more in depth feature of the gay twins from Montana making a lives fro themselves in the time of "Free Love." which, as we all know, was not free for all...
You can check out Jerry on FaceBook
here
, and wish him a happy birthday. And, you can purchase their first album on Amazon.Com
here
- I have! You can also check them out on Last.FM
here
, or you can check out Songs From The Heart, a collection of songs the boys were working on for a second album,
here
. If you are an observant reader, you might notice all the songs are available for download for FREE. Yet another chance I took full advantage of. I am crazy about the song,
Letter From Mom and Dad
. Now if I can get to Woodstock and convince Jerry to have lunch, and maybe an adult beverage or two or five... Happy Birthday, Jerry!