A couple of weeks ago, I had a
first post
about Richard and Karen Carpenter, and it seemed like time to run a second, with the next four hit songs the brother-sister duo. They practically owned the airwaves in the early 70s, with Richard's lofty music paired with the deep and sonorous voice Karen put to great use.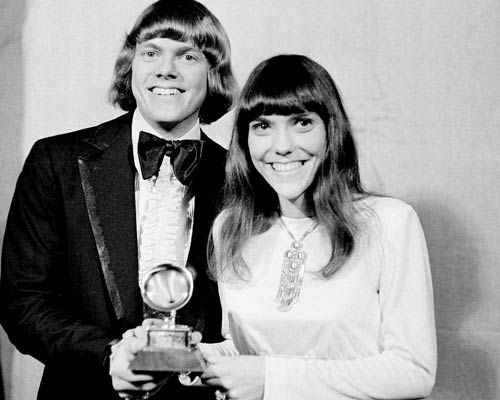 In 1971, they released their third studio album, a self-titled album featuring 10 tracks, with one of those being a medley of great songs by Burt Bacharach and Hal David. The first two singles off the album were very successful, and covered in the first post. The next single was quite different, and brought them to a new place. When Leon Russell and Bonnie Bramlett wrote
Superstar
, I doubt they had the duo in mind to record it, but after listening, they should have. Richard's lush production wrapped perfectly around Karen's vocals, and the song went to #2 on the Billboard Hot 100.
Soon it was time to start promoting their next album, for the last had gone quadruple-Platinum in sales. In anticipation of
A Song For You
coming out in 1972, they released
Hurting Each Other
in tie for Christmas of 1971, and it seemed like quite the present to their fans. The song was written by Gary Geld and Peter Udell in 1965, and covered by many, but none had the same success as the Carpenters, as they song went to #2 on the Billboard Hot 100.
The next single out of the gate was
Goodbye To Love
, a song composed by Richard Carpenter and John Bettis. This was the second hit written by Richard, the first being the season
Merry Christmas, Darling
in 1970. It was written with Bettis, a college friend of Richard's. The song went to #7 on the Billboard Hot 100.
In 1973, they released what might be their most infectious song ever. They heard the song, written by Joe Roposo to be sung on the children's program
Sesame Street
, and knew immediately they had to record it. So the first single off their new album,
Now & Then
, was
Sing
. They took the song to #3 on the Billboard Hot 100, and into the hearts of everyone.
This would cover the middle part of their ride on top of the charts. There is more to come, before the ride comes to an end. Till then, sing a song!