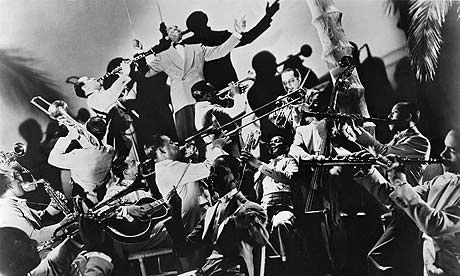 Edward Kennedy Ellington was an American composer, pianist, big band leader, and Jazz artist. Edward, who some might now better as Duke Ellington, wrote over 1,000 compositions. For many, Ellington was the greatest songwriter of the twentieth century, and others believe maybe ever. His style and talent influenced the music in six or so decades he was making music, starting in the late 1920s. Much of his music, starting with his Big Band hits, went on to become Jazz standards, as well as Pop standards. His music was featured in films and on Broadway, as well as anywhere dance can be found. Ellington was born in Washington, DC, in 1899, to parents who both played the piano. His maternal grandfather was a slave in the South. His mother instilled the grace and manners of high society, and the neighborhood kids gave him the nickname "Duke". While he was most interested in baseball when he was a young man, soon it was music that took up his time. Before turning 21, Ellington was playing gigs as a pianist professionally, making a name for himself. He was playing in the DC area, as well as Maryland and Virginia. Soon, however, he moved to Harlem, and became a part of the great Harlem Renaissance of the 1920s and 1930s. His music flourished, and was hitting the charts by the late 1920s.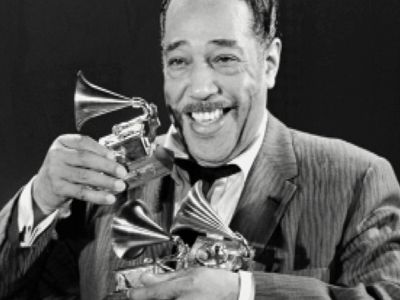 And while he had written and performed some of the most memorable music of the 1930s, 40s and 50s, I would have to think one of his most famous songs was the great
Take The "A" Train
. It was written in 1939, and in 1941, it went to #11 on the US Pop charts. This is a clip from the 1943 film
Reveille With Beverly
, which featured the song.
Another great song was written in 1931 and took off on the charts the following year.
It Don't Mean A Thing (If It Ain't Got That Swing)
went to #6 on the Billboard Pop chart. I know it is a song I sing to myself from time to time, just because it pops into my minds. The following clip was from a show in 1943.
Mood Indigo
was written in 1930, with music by Duke Ellington and Barney Bigard and lyrics by Irving Mills. When the Duke Ellington Orchestra in 1931, it climbed to #3 on the Billboard Hot 100. It is most certainly a 'mood' piece, and a glorious one at that. I could listen to it for hours.
Written in 1953 by Duke Ellington and Billy Strayhorn with lyrics by Johnny Mercer,
Satin Doll
quickly became a standard. It was recorded by the great voices in the business, including Ella Fitzgerald, Frank Sinatra, and Nancy Wilson. In 1953, went to #27 with Duke and his Orchestra.
There are songs that are considered Jazz standards, and they are usually picked for a reason. It is not because they are easy to sing or to play, but because they are not easy, but elevates the performance of those who attempt it. Such is the case with the great song composed as an instrumental in 1932 by Duke Ellington and Irving Mills, to which words were added by Mitchell Parish. That song,
Sophisticated Lady
, went to #3 on the Billboard Hot 100 in 1933. The following video was taken from a performance in the late 1960s, featuring the talented Harry Carney.
The song went on to be the title song for a Broadway show featuring the music of the great Duke Ellington.
Sophisticated Ladies
opened on Broadway in 1981, and closed two years later. It featured the talents of Phyllis Hyman, Gregory Hines, and Hinton Battle, all who earned Tony nominations for their work, and Battle took home the statue. For his recordings, Ellington won twelve Grammy Awards. To learn more about Duke Ellington, visit his official website
here
. You can also find his music online. You can get a very nice collection,
The Best of Duke Ellington
, on
iTunes
or
Amazon
. You know, I think everyone should have some Ellington in their collection. At least if you want to listen to the best.