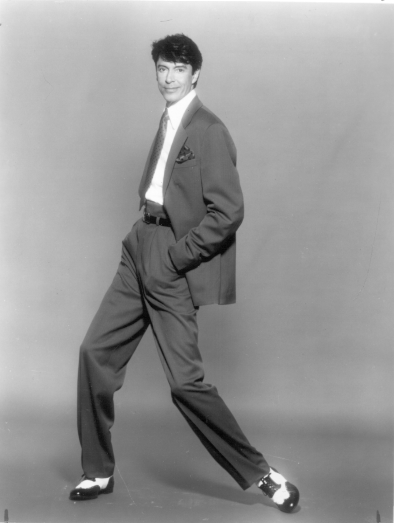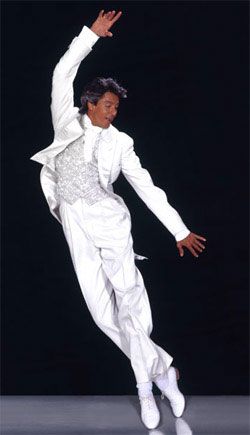 Today, the actor/dancer/director Tommy Tune turns 73. My own earliest memories of Tune are that he is exceedingly tall, and most of that height was in his legs! I would guess the first time I was him was when he played Ambrose Kemper in the movie musical Hello Dolly!, starring Barbra Streisand and directed and choreographed by Gene Kelly.
But my first real memory is when I was still in college in Reading, Pennsylvania. We took yearly trips to New York City to see shows, both Broadway and off-Broadway. It was organized by the late Dr. Lynn Morrow, head of the Albright College Theater Department. We'd go by bus on Thursday, catch five shows, stay at the Empire Hotel, and return to Reading on Sunday after catching a matinee. I saw so many amazing shows on those trips, and among them was
A Day In Hollywood/A Night In The Ukraine
. The musical featured Priscilla Lopez, who I had seen in
A Chorus Line
, and David Garrison, who I just fell in love with. He was funny and danced so well. This was long before I saw him in as Steve, the neighbor in
Married...With Children
. The show was directed by Tommy Tune, who also choreographed it with Thommie Walsh. Here is a number from the show,
The Production Code
.
I started working in Greenwich Village at the Circle Repertory Theatre in 1983, and he had a show running down the street at the Lucille Lortel Theater. The show,
Cloud Nine
, was winning all the awards that year, the Drama Desk and the Obies, and when they had some extra tickets, they offered them to the theater, so I saw it a couple of times. Begrudgingly, I have to say it was great. And since The Lortel was just down Christopher Street, I would sometimes see Tune walking down the block - well, he was hard to miss! He also had another show running at the time, a Broadway musical.
Nine
took the world by storm, and also the Tony Awards.
The next year, Tune was back out there, this time taking center stage in the musical
My One And Only
. He costarred in the show with Twiggy and Charles "Honi" Coles.The show was brilliant, using the music of George & Ira Gershwin. The show was the talk of the theater community, for it featured model turned star Twiggy, singing and dancing. During the out-of-town tryouts, it was rumored to be fraught with problems, and in turmoil. By the time it hit New York, it was in tune and amazing, complete with a dance taking place in an on stage pool. Tune and Coles won Tony Awards for their performances, and Twiggy was nominated. Here is a performance from the Tony Awards of 1983.
Tune also appeared on
Broadway's Best With The Pops
, a special with the Boston Pops Orchestra in 1998. He sings and dances to
Tap Your Troubles Away
, the song by Jerry Herman from Mack And Mabel.
So, Happy Birthday, Tommy Tune! You have given much over your career, and your work has inspired many.