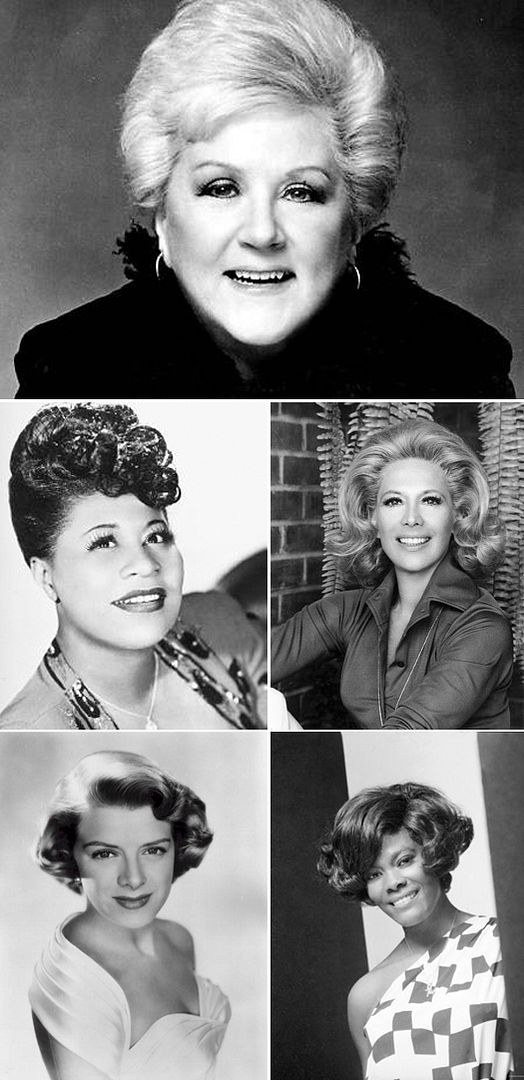 Clockwise from top: Margaret Whiting, Dinah Shore, Dionne Warwick, Rosemary Clooney and Ella Fitzgerald.
I thought I would come back to this sweet sound with yet another group of talented ladies. It is a collection of classic voices, some with household names, others with a bit of a cult following. The first would fall more into the latter, as Margaret Whiting might not have the cache of some of the ladies who follow, but certainly had a long career, having been raised in the business, as father Richard Whiting was a songwriter, having written classics like
Hooray For Hollywood
. After having her heyday in the 40s and 50s, she continued to sing in clubs on both coasts. In 1994, she married gay adult star Jack Wrangler, and they stayed together until his passing in 2009. Margaret passed in January of this year. In 1945, She had a hit singing
It Might As Well Be Spring
with Paul Weston and his Orchestra.
The next young lady was singing background vocals for many of the top stars of the late 50s and early 60s, having been first noticed singing with a gospel group, which won the weekly amateur contest at the legendary Apollo Theater. Soon she was noticed by in one of the sessions by writer Burt Bacharach, who, along with writing partner Hal David, singed the young lady with the voice they loved. Soon Dionne was singing their songs and making the pairing of Dionne with Bacharach and David a steady member of the Pop charts. That would include their startling song from 1964,
Walk On By
.
While she couldn't seem to get a job with a big band the way every other girl singer was doing in the late 30s, she became the first woman singer to take her talent solo, and certainly made a name for herself in the 40s and 50s. Dinah Shore couldn't get the job with Benny Goodman or either Tommy or Jimmy Dorsey, so she followed her own path to fame. In 1944, she appeared in Belle of the Yukon, and sung the beautiful song by Jimmy van Heusen,
Like Someone In Love
. She later went on to host her own talk show. Despite several marriages and high-profile relationships, Dinah's support of Women's Golf somehow translated into constant rumors of her being a lesbian, which is not really supported by any fact.
Our next singer needs no introduction, especially form me. Ella Fitzgerald is a brilliant singer, with a career spanning seven decades, from the 30s to the 90s. she just had so much talent, be it her ability to scat, to groove on some jazz, or just flat out sing a song. This video is of her singing Cole Porter's great song,
Ev'ry Time We Say Goodbye
. This clip is from 1965, but she originally recorded the song in 1956.
I can't tell you how much I loved the ovice of our final singer tonight. My mother played her music, and she was certainly in some of my favorite films I remember watching, including
White Christmas
. Rosemary Clooney's voice was so lovely, with a depth of tone that could bring you to tears as easily as it could get you dancing. Enjoy her singing her 1954 hit,
Hey There
, written by Richard Adler and Jerry Ross for their Broadway musical,
The Pajama Game
.
Glorious music, indeed.