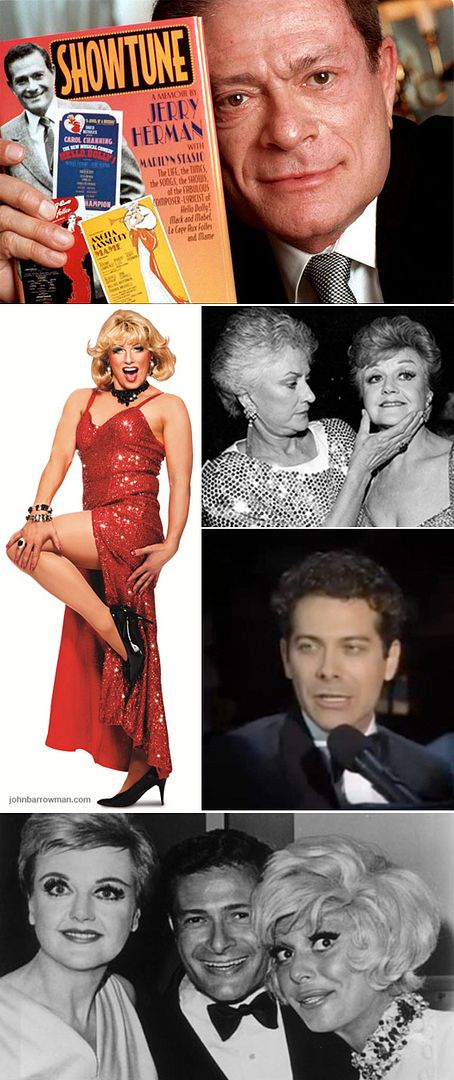 Pictured: Jerry Herman, Angela Lansbury, Bea Arthur, John Barrowman, Michael Feinstein, and Carol Channing.
Jerry Herman was born on July 10, 1931, so he is celebrating his 80th today. He made his career writing some amazing songs through the years, as well as some iconic roles for some of the greatest leading ladies musical theater has known. He is at least in part responsible for the magical creations of Dolly Levi, Mame Dennis, and Zaza, who offstage was known as Albin. He wrote about love in every form, be it the love of an aunt for a nephew, two best friends, a widow and a widower, or two men who run a drag bar.
But he also made sure all of his leads were strong. They didn't bend to the winds blowing from the society at large, as you can tell when Zaza stands up to tell everyone,
I Am What I Am
from the 1983 show,
La Cage Aux Folles
. This is John Barrowman performing it when he starred in a recent London revival of the show.
Sure, Vera might have had a tendency to drink a bit more than most and Mame might have marched to the beat of a different drummer, but when push came to shove, the ladies were inseparable. Here Angela Lansbury & Bea Arthur sing
Bosom Buddies
from
Mame
.
Mame celebrated her unconventional nature, something her nephew Patrick loved when he was young, and seemed to be uncomfortable, and even embarrassed about later. But when Patrick was having a tough time because of the passing of his parents, she was right there, singing
We Need A Little Christmas from Mame
. This is a clip of Angela Lansbury singing it for a Christmas special.
In 1974, Herman wrote a special show called
Mack & Mabel
. The story revolved around Hollywood legend Mack Sennett and his rocky relationship with Mabel Normand, who went on to be a big star in the movies. The original production was not a big success, closing after 8 weeks. But it grew in cult status, and subsequent revivals garnered some great reviews. Here is Michael Feinstein singing
I Won't Send Roses
from the show.
Everyone knows the story behind Hello Dolly!, which first opened on Broadway in 1964. Countless woman have played the role, from Carol Channing to Ginger Rogers to Martha Raye to Betty Grable to Pearl Bailey. Here is the original Dolly Levi, Carol Channing, singing the number that closed the first act,
Before The Parade Passes By
.
Of course, if you mention Hello Dolly!, you can't ignore the title song, can you? Especially if it is sung in the movies by a young Barbra Streisand and the great Louis Armstrong. Here they are, singing
Hello Dolly
.
Happy Birthday, Jerry! May you celebrate many more!