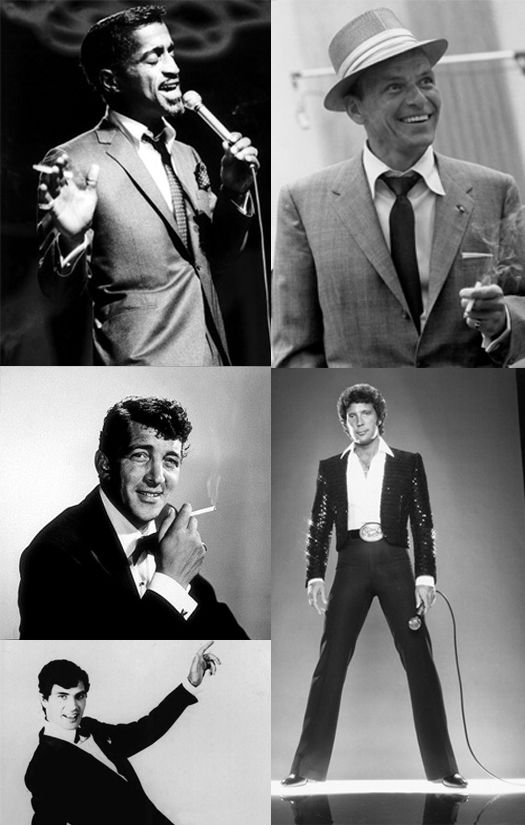 Men feeling the flame of the torch: (clockwise from top left) Sammy Davis Jr., Frank Sinatra, Tom Jones, Engelbert Humberdinck, and Dean Martin.
Well, I just thought it was wrong to think that only a woman can hold a torch for a lover, because there is a long history of men singing about the very same thing. So I thought I would continue on with the series of Torch Singers, only featuring the men. Back in their day, they could set the hearts of woman all aflutter simply by walking on stage. That was certainly true for Frank Sinatra, the singer from Hoboken, New Jersey. Whether he was performing by himself, or in Las Vegas with his Rat Pack buddies, Sinatra knew how to sing a song. Check him out singing
I've Got You Under My Skin
, a classic by Cole Porter, talking about that early part of love.
If there were ever a poster boy for a gin-soaked evening in a club, it would be the very handsome Dean Martin. The boy from Steubenville, Ohio, certainly could turn a head, and never met a drink he didn't like. He'd come out on stage, drink in hand, cigarette in the other hand, and rip the hearts of many to shreds with songs like
Besame Mucho
, written in 1940 by Mexican songwriter Consuelo Velázquez.
The next song was recorded by many, but leave it to Sammy Davis Jr. to put his own particular spin on it.
Who Can I Turn To (When Nobody Needs Me)
was written by Leslie Bricusse and Anthony Newley for the 1964 musical,
The Roar of the Greasepaint—the Smell of the Crowd
. Like his Rat Pack brothers, Sammy could be seen with his cigarette in hand as he performed.
In some way, the remaining two men are the next generation of Rat Packers, so to speak. Engelbert Humperdinck
Please Release Me
, an standard written in 1946 by Eddie Miller, Robert Yount, and James Pebworth. Engelbert, born with the relatively boring name of Arnold George Dorsey, released the song in 1967, reaching the top of the charts in the UK and to #4 on the US Billboard chart.
There are few ways to truly describe out final man tonight without using the word sex. For many years, Tom Jones has embodied a sexually-charged charisma that had women throwing their undergarments to him while he was performing, screaming to get his attention. While the sexiness of the act often grabbed the headlines, there was plenty of talent to back all that up. Watch as he performs his version of the classic 1937 Richard Rodgers and Lorenz Hart song from the 1937 musical
Babes in Arms
,
My Funny Valentine
.