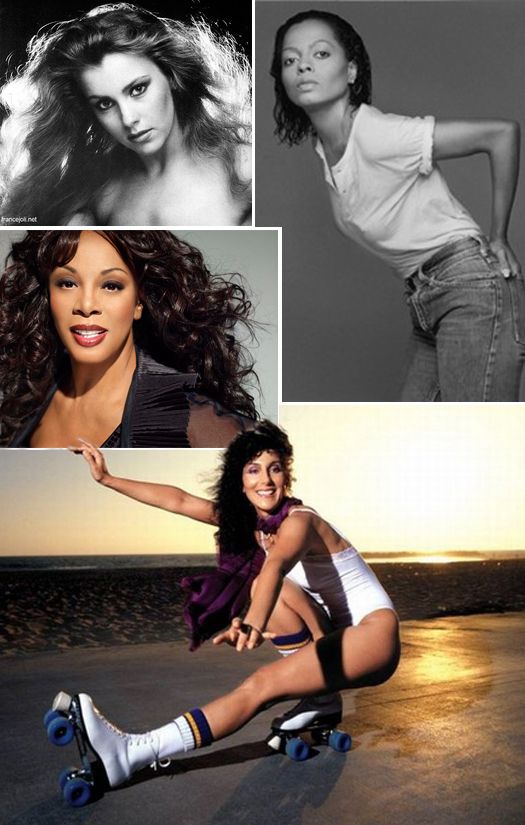 Clockwise from top left: France Joli, Diana Ross, Cher & Donna Summer
1979 was an interesting year in music, some incredibly strong women made their way to dance music, and if you were going to hit the clubs, you'd be dancing to these songs. one of those women was a big-voiced Canadian from Montreal, who had the club-goers buzzing trying to figure out who she was. I remember people saying they heard she was the younger sister of Barbra Streisand, but that, of course, was not true. Before fame found her, she did sing to Streisand records, but that is where it ended. I remember seeing her at Spectrum, the club in Bay Ridge, Brooklyn, where Saturday Night Fever was shot. It was a gay dance club in the late 80s when I would go there. And one of teh songs she sang at the club was her 1979 hit,
Come To Me
.
Diva extraordinaire Donna Summer was discovered while singing background for the rock band Three Dog Night, and immediately started working with producer Giorgio Moroder, and together they started making history in 1974. In 1979, Summer ruled the charts with several songs, including two she often sang together,
Bad Girls/Hot Stuff
.
Although she first came to the attention of public over a decade before, as part of a duo with her husband, Sonny. In 1979, Cher had a huge hit with the song
Take Me Home
, her foray into the world of disco, as only Cher could deliver. And it certainly wasn't her last hit, as she had plenty of juice left for a few more decades of music...
Is there a bigger Diva in the world than Miss Diana Ross? Perhaps Ms. Streisand could give her a run, but I still think that perhaps the title remains with Ross. In 1979, she let the world know who she really was with the release of the dance hit,
The Boss
. Yep, she was the boss, and we all made our way to the dance floor on her orders.