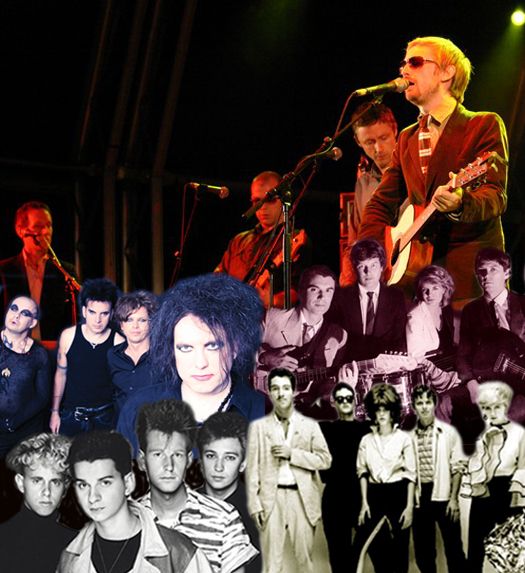 Celebrating Indie Disco with (clockwise from top) The Divine Comedy, Talking Heads, The B-52s, Depeche Mode, and The Cure.
Well, I am inspired today by a Tumbr post by the handsome Connor Fairuza, who posted a video from The Divine Comedy. It reminded me of a time long ago, when I was living in New York and going out dancing, and hearing some great music, and dancing my ass off
At The Indie Disco
.
In 1984, a British band named Depeche Mode were making a run at the music charts, blending their own particular brand of synth-pop with an edginess needed to garner the love of the New Wave crowd. Well, they had it, alright, as can be seen in this performance of
People Are People
.
During the 80s, Robert Smith was my Goth Prince, and I would follow him anywhere. I can't tell you how many times I went to see The Cure play live, dancing at the shows, or would take to the dance floor when a dance mix was playing. Here they are, playing the 1987 release,
Just Like Heaven
.
Jerry Harrison, Chris Frantz, Tina Weymouth and David Byrne were the darlings of the indie scene in the 70s and 80s, and had their fair share of success during that time. I remember dancing to
Life During Wartime
in college, both in the dorms and at dances. Released in 1979, the song typified the rebellious attitude of the teens and 20-somethings at the time, aching to find a place for themselves in the world.
Perhaps the daddy of them all, or perhaps the real Mother of them all, was the one, the only B-52s. Fred Schneider, Kate Pierson, Cindy Wilson, Keith Strickland and Ricky Wilson were making the music everyone rushed out to buy, and certainly took to the dance floor the minute the first few bars began to play. So, without further ado, here are the B-52s playing
Rock Lobster
.
Hope you enjoyed it, and danced your ass off! I am at a Jake Walden show just outside of Philadelphia, and I hope to be reporting on it soon!