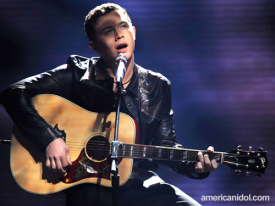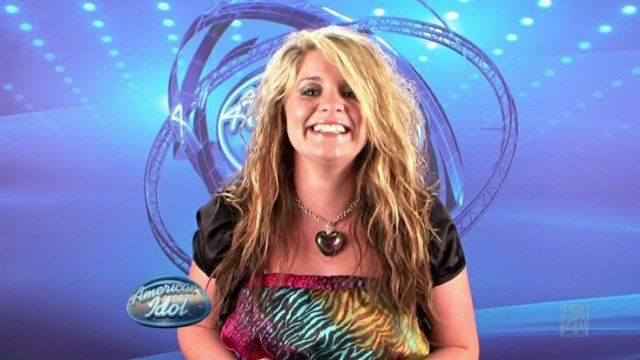 Left to right: Haley, Scotty & Lauren.
The show starts off with short clips of the kids going to their homecoming celebrations last week. Crusty also tells us James had a homecoming as well, and showed a picture of him signing autographs. But they get down to business rather quickly, as Crusty tells us there will be three songs - a contestant choice, a Jimmy Iovine choice, and a Judges choice. But he also tells us the schedule is a bit different next week, with the performances on Tuesday night, and the results on Wednesday night. With 9 performances tonight, they need to get to the job at hand, which seems to be a long video intro for a woman who needs no introduction, Beyonce. She will be helping the kids this week, a job she i looking forward to doing.
Scotty is up first, and he choices to tackle Lonestar's
Amazed
. He does a nice enough job with it, although there were some broken and lost notes there tonight. He was pushing his limited range, and it showed. I also look forward to the day he sings from his heart, not his memory.
Lauren is up next, and she chooses
Wild One
by Faith Hill. Beyonce liked her, but gave her advice to get out of her own way, to psyche herself up. It is funny, but I really start to enjoy Lauren performing when she builds a bit, but then backs away from the song and her own voice. I think she could do it, if she would just try...
Haley is next. She tells Beyonce she is singing Led Zeppelin's
What Is And What Should Never Be
. She has her father son stage with her, playing the guitar. During the middle of her performance she takes a spill, but gets up ready to go. She is taking the song the best she can, and is actually out-singing the other two. The judges loved her, and commented on how she commanded the stage.
In fact, when asked by Crusty, they all think Haley has taken the first round, spills and all. When they return after the break, we see Scotty's audition run in full before we go to Jimmy Iovine and find out he chose Thompson Square's
Are You Going To Kiss Me Or Not
. It is a cute choice, and Scotty seems quite happy. He does a nice job, even feeling it a bit. Nicely picked by Jimmy, he gave it a kids feel, which was nice to see. It could have been his best of the season to date, at least for me.
After the break, we are backstage and Crusty is watching Lauren get makeup applied to her legs, as her panty hose ran. She is embarrassed, but the show must go on. This leads us to seeing the audition when she sang with Steven. Jimmy Iovine picks Perry's
If I Die Young
, and thinks she should keep it light and happy, cause things tend to scare Lauren a bit. Come time to sing, she starts off a little shy, but builds with the song. By the end, she is really delivering the goods.
The judges see it a bit different than I do, and find the beginning to be the good part, and when she finally added something to it to be the bad part. Oh well. After the break, we discover Haley is singing Fleetwood Mac's
Rhiannon
, thanks to Mr Iovine. She does a very nice job with the song, which might not have been the best call by Jimmy. The others had somewhat unknown singers, while Haley had to compete with the image of the incomparable Stevie Nicks. The judges all said she was good, obviously being polite about being unimpressed.
It is time for Crusty to check in with the judges, and this time there is a split decision. Steven picks Lauren, while Jennifer and Randy go with Scotty. Then it is time to pay Beyonce back for spending an hour with the kids, and we watch the world premiere of her new video,
Run The World (Girls)
.
After the break, we are back with Scotty, and see that while he was home, he got the Judge's Choice via a text. He will be singing Kenny Roger's
She Believes In Me
. He kicks it off a little tentative, and there was a pitch problem throughout the song. It was a bit disappointing after the last performance.
However, the judges see it differently, and think he was great. Crusty talks to his father, ripping a bit more emotion out of the situation, and even asked Dad to sing so he could have the Josh Turner moment of his own.
During her trip home, Lauren finds out she is going to sing Lee Ann Womack's
I Hope You Dance
for her last song. She does a nice job, but mainly cause the song doesn't have a bold moment, more of a quiet loveliness. She did a nice job, but it wasn't as impressive as I'd like to hear, but that was at least in part due to the song.
The judges love it, and Jennifer discards Haley's performance and gives the round to Lauren. Of course, I saw that coming, so she would have picked a different winner of each round. Steven and Randy loved it as well, and it seems the entire world but me are good friends with Ms. Womack. Just sayin'... After the break, we see Haley getting word on the song the judges want her to sing. She reads the text while in the limo, and she will be singing Alanis Morissette and her angry anthem,
You Oughta Know
. Where the judges trying to say something there?
The judges are kindly dismissive of Haley, commenting on amazing chorus', but problems on the rest. When asked, Steven gave round 3 to Haley, while Jennifer and Randy gave it to Lauren. That, of course, gave Randy and Jennifer a complete tie, with each contestant winning a round. Steven, on the other hand, went off the script, and gave Haley rounds 1 & 3, and Lauren round 2. However, on the recap, we are reminded she was the most consistent of the night. I would actually have to say Scotty won round 2, but was in the bottom on the other two. But there is no chance of Scotty going home, is there? I guess we will have to see tomorrow night when Crusty reveals the finalists for the 10th season of American Idol!