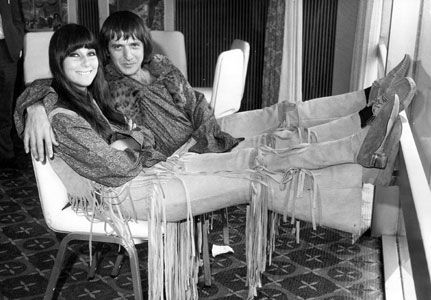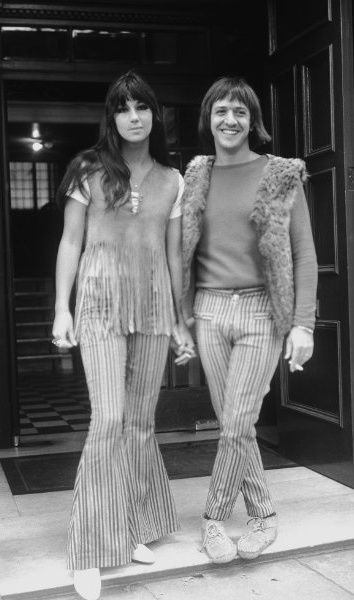 In 1964, a couple had their first real national success with the song
Baby Don't Go
. Sonny & Cher, who had tried to make a go of it using the name Caesar & Cleo, recorded the song written by Sonny. So after a few years of real struggle, the couple were on their way. The song made it to #69 on the Pop charts, a real score for them. Here it is,
Baby Don't Go
.
The following year, they scored a hit with a song that became their trademark,
I Got You Babe
. Once again, the song was written and produced by Sonny Bono, and sung to perfection by the duo. The song went to #1 on the Billboard Hot 100, and earned them a place in music history.
In 1966, they recorded a song that was originally written by the French team of composer Gilbert Bécaud and lyricist Pierre Delanoë. The song,
Et Maintenant (And Now?)
, was translated by Carl Sigman and became
What Now My Love
. Sony & Cher's version made it to #14 on the Billboard Hot 100.
If there was a song that could give I Got You Babe a run for it's money as their signature song, in 1967 they recorded another song written by Sonny,
The Beat Goes On
. It made it to #6 on the Billboard Hot 100, and was a hit all around the world. The lyrics were topical and noting the changes that were happening in the tumultuous years of the 60s, appealing to young and old alike.
In 1969, they had their pride and joy, daughter Chastity. She would go with them everywhere, and often join them at the end of shows. By 1975, the couple had divorced, although they remained an 'entertainment couple' for several years following the separation. Both went on to remarry, and have other children. Cher established a big music career as a solo artist, as well as an actress. For her role in the 1987 film Moonstruck, she was given the Academy Award as Best Actress. Sonny went into politics, and was elected mayor of Palm Springs before being elected to the House of Representatives as a Republican Senator from California. He died after being involved in a skiing accident in 1998. And, of course, over the past few years, Chastity became Chaz, now one of the most famous transgendered people in the world.