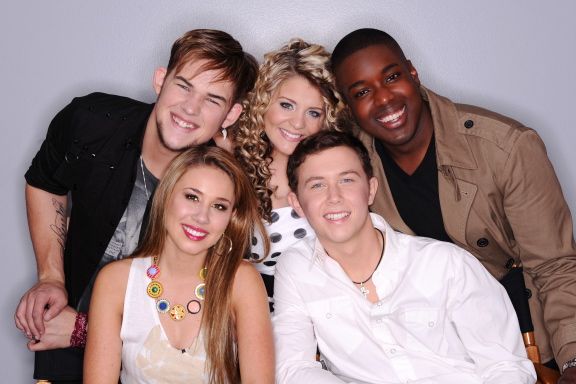 For the tenth time in it's illustrious history, American Idol offers up a top five to the audience to enjoy, and then take an active role in their careers. James, Lauren, Jacob, Haley and Scotty will all be performing two songs this evening, one from our modern times, and one from the 60s. If there is a greater philosophy behind this, other than filling 90 minutes of airtime so Fox can charge a bun of money for commercials, it is lost on me. And since they decidedly left up without a clue as to the identity of the bottom 3 last week, all five of the remaining contestants are on equal footing, or at least that is the impression the producers want to give us. After all, until last week, we knew that Lauren, Scotty and James had not been in the bottom 3. Did that change last week, and they just didn't tell us? Or did Haley and Jacob complete the bottom 3, still leaving the record of the others unblemished? I doubt we'll ever know, but soon, we will know who was in good form, and who wasn't.
Everyone is introduced, and we find out that tonight is important, cause, as Randy says, America and the Judges want to know who is in it to win it. This tells me that I will soon be tiring of this statement, for Randy will be going there time after time. James starts out the evening with the contemporary entry, as he performs
Closer To The Edge
by 30 Seconds To Mars. He does a nice job, although there are times when he really drifts off the notes. I just find his technique to be really lacking at times, he can get pretty sloppy with his notes, and his breath control is lacking. Of course, the judges all love him, and see none of that. In fact, Randy calls 30 Seconds To Mars a great band, which is somewhat surprising...
Jacob is up next, and he picks
No Air
, by Jordin Sparks and features Chris Brown. Jacob goes it alone on the duet song, which was a beautiful one perfectly suited to the former AI champions voice. Not so perfect for Jacob. He is incredibly sharp and shrill, and makes a wonderful song and makes it a muddied mess. Jennifer seems to appreciate he has defined himself as the next Chris Brown, and ignores the bad performance. Surprisingly, Randy agrees with me, and he and J-Lo argue about who is right, rather than about the guy in front of them. Steven agrees, but with what, I am not sure.
Lauren is up next, and she is going to sing
Flat On My Feet
by Carrie Underwood, a true vocal powerhouse and winner of the fourth season of Idol. Cheryl Crow offers the useful advice that Lauren plant herself and sing the damn song, and when Lauren takes the stage, she really takes control of the stage. She owns it, and does a great job. The judges agree.
Scotty is next, singing
Gone
by Montgomery Gentry. Cheryl loves it, and thinks he sounds great. Frankly, I thought the song showed a certain thinness in his voice, a bit of a hole in his range. But it was certainly more energetic than I thought Scotty capable of being, at least on stage. Apparently, once again, I listen alone, as the judges drool over the performance, and is the 3rd outta four who is in it to win it. Sorry Jacob.
Haley is up next, and we are told she is singing an unreleased song by Lady GaGa, which fascinates me. How does Haley get to sing a song like that? Apparently, Jimmy Iovine suggested this song, which GaGa did at concerts, but not recorded yet. Haley got permission from GaGa herself to sing
You And I
. Cheryl Crow promises an elusive 'moment' on the show, and I think she sang it well, with perhaps the best vocals of the night. OF course, the judges see it differently. Jennifer thinks it was silly to sing a song no one knows, the audience isn't smart enough to see the singer. She Randy agrees, and even insults the song and Lady GaGa. Steven, as is often the case, says nothing.
James comes back to lead off the 'Songs of the 60s' portion of the night, and sings Harry Nilsson's
Without You
. That is a great song, and right up his alley. There is all kinds of slippage going on, moving from on key to sharp, and he loses his emotions, as well as a bit of vocal control. Again, he highlights his weaknesses. For the judges, however, not so much. Randy considers it his to lose at this point. Sure there were some bad notes, but that is OK. After all, it's not a singing competition, right? Steven also acknowledges the bum notes, but chooses to ignore them. Jennifer does the same, emphasizing the emotional mess of the situation. Got it.
Jacob sings Nazareth. Go figure. He sings
Love Hurts
, and hits some notes that are not anywhere on the paper, nor should they. He plows through much of the song, and then pulls out his bag of tricks at the end. What a steaming pot of mess. Shockingly, the judges see it differently, as an amazing performance that put him back in the competition.
Lauren is up next, and is singing Simon Cowell's favorite songs,
Unchained Melody
. It is a favorite of her parents, sung by the Righteous Brothers. She does a lovely job with it, but is a bit too tentative to me. No bad notes, but a bit hollow. However, the judges think it was beautiful, with nary a bad thought allowed.
Scotty sings
Always On My Mind
, by Elvis Presley. I think of it as a Willie Nelsen song, but hey, it is a great song. It is kinda sweet, and a bit vapid. A little weak at moments, but no bad notes. The judges love it, and think there is nothing to criticize. I cringe a bit when Crusty starts talking about there being some Puerto Rican in Scotty...
Haley will close out the show with some great 60s rock by The Animals. She will sing
House Of The Rising Sun
, a brilliant piece, to be sure. Cheryl convinces her to come out singing a cappella, and she just tears the house down. She sings the crap outta this song. Surprisingly enough, the judges agree, and call her the performance of the night. I just don't follow them.
The recap goes on, and it is very obvious that Jacob is the weak link of the night. I thought both performances went way outta control. But it also featured some wonky notes from James, and how Scotty was carried by the back up singers in his first song. The ladies had good edits on their songs, but who knows what America will do.... Guess we will learn tomorrow.