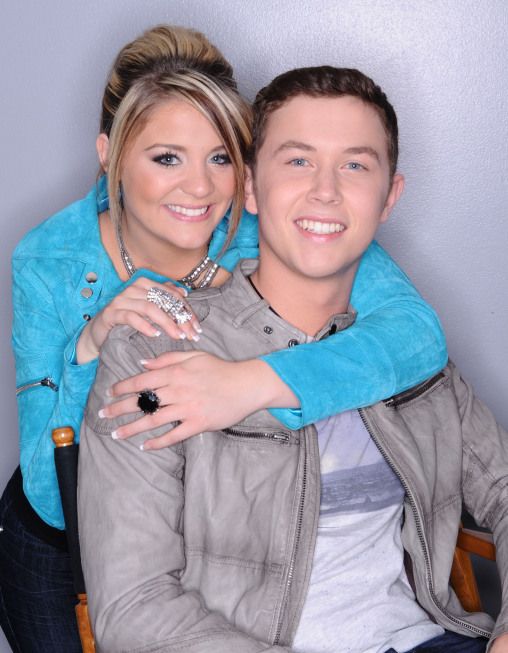 Lauren Alaina & Scotty McCreery
The show opens with quite the dramatic flair, with scenes of former winners and the current contestants as children. There has been plenty of talk blowing up on the internet that Lauren might be unable to perform this evening due to illness, but Idol is seldom light on drama and rumor. That is put away quite quickly, as Scotty and Lauren come walking out hand-in-hand. There is the doctor discussing a blown-out vocal chord, which doesn't sound good. There will be three rounds, the first being the contestants favorite song of the season. The second is the contestants own 'idol' will choose for them, and finally, the 'winning' single will be the final leg.
Scotty starts by reprising
Gone
, the up-tempo song by Montgomery Gentry. Scotty does a nice job, just I have to say the song gets a little lost in the ruckus of the opening number. Still, a strong showing for Scotty.
Lauren Alaina is up next, and she is singing Carrie Underwood's
Flat On The Floor
. There is a rough texture to her voice tonight that is actually a bonus. She does a nice job, and is fighting for her place in the show.
After the song, she is standing beside Crusty, bouncing, a bit wound up. After the break, Scotty is ready to perform, and his Idol, George Strait, picked
Check Yes Or No
. Scotty is nailing the song, until the chorus, when he kinda fades a bit. It certainly isn't sitting in the sweet spot of his voice. But he returns to form for the verse, which is a good thing.
After the break, we find out Carrie Underwood is Lauren's idol, and she picks
Maybe It Was Memphis
by the great Pam Tillis. I have to say, Lauren is nailing this song.
They take a moment to let the judges drone on and on with a bunch of nothing that says it is a tied game at this point, once again refusing to really give the opinion for which they are theoretically paid... Randy & Jennifer say first round to Scotty and second to Lauren, while Steven gives both to Lauren, cause she is prettier. Then we had a drive-by processing of Taio Cruz's voice on some song the audience helped to write,
Positive
. For me, the experience di not live up to the title.
Scotty comes back to sing his final song, the first single,
I Love You This Big
. I can't help but think of Hallmark Precious Moments statues with this title, and am afraid. The song was picked by Jimmy Iovine, who is quite happy with the song. The song starts out like a Randy Travis number, which is perfect for Scotty. He is standing still in the center of the stage, with videos of his Idol journey playing and him playing baseball on the screens behind him. Again, when it comes to the chorus, he chokes it back a bit, but I bet in the studio Jimmy can get that all fixed. Randy calls it a brilliant vocal, which astounds me. Jennifer calls his a storyteller, and thought he did well. Steven puts out a bunch of sports metaphors to say he did well. They take a break and Lauren will sing her final song when they return. I could find no video for this song, so I got nothing.
Lauren's 'first single' is
Like My Mother Does
. It is a song first performed by former AI Finalist, Kristy Lee Cook. She starts the song a bit tentative, but quickly gets it under control, and takes command of the stage. She leaves the stage, and joins her mother in the audience. She returns to the stage to finish out the song. I love the way she takes the Country and puts a bit of Pop polish on it.
In an interesting twist, the judges comments show Randy pontificating while still saying nothing. Jennifer calls it for Lauren, as does Steven Tyler. They return to the stage, and when pushed, Randy says Lauren wins round three, while Jennifer backpedals, calling it even. Steven says it is hands-down Lauren's night. I have to say, I agree with Steven, but think Scotty is still going to win. The voting will go on for 4 hours. To close out the night, Season 7 winner David Cook comes out to sing
Don't You Forget About Me
, which has played for the exiting contestants all season long. Well, all I have to say is I tahnkfully could find a clip of Jim Kerr and Simple Minds on the original.