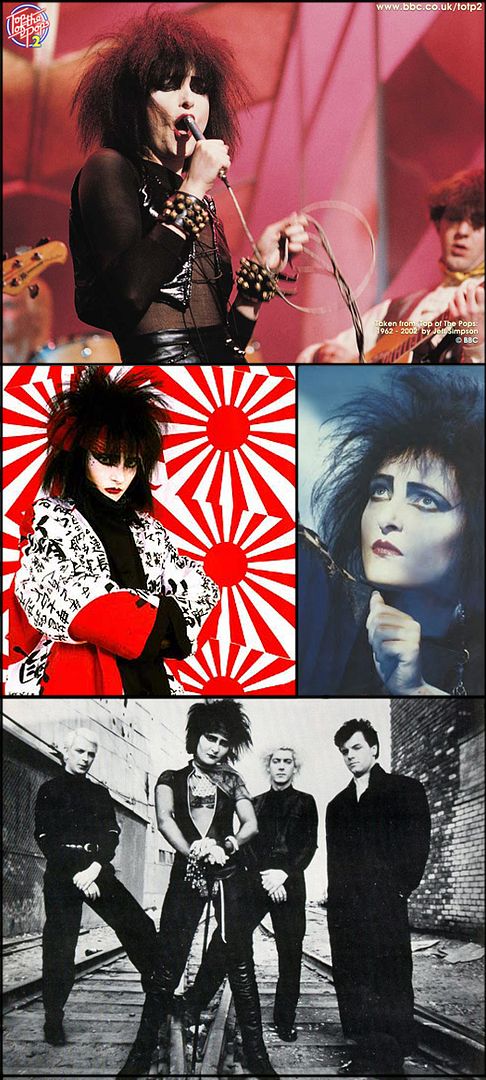 It's hard for me to know what song Siouxsie & the Banshees are most know for in the US, as they really didn't have much success in this market. They made a bit of a splash as part of the Neo-Punk/New Wave movement, showing the early signs of Goth tendencies with The Cure. Formed in 1976, vocalist Siouxsie Sioux and bassist Steven Severin were initially part of the burgeoning English punk rock scene. Siouxsie's look was bold, androgynous, and highly stylized, almost the Goth Ziggy Stardust. Soon the flavor of the band was moving in a Post-Punk direction, one that was a harbinger of sorts for the New Wave movement. I leaned of them through my fandom of The Cure. In fact, lead singer Robert Smith at one time had an affiliation with the band. At the first public gig the band played, the drummer was John Simon Ritchie. Mr. Ritchie later became known by the name he used in his other band, Sid Vicious. The other band? The Sex Pistols. I think the first song I remember hearing was
Spellbound
, a 1981 single. I seem to remember it getting some play in the clubs and on college radio. It was off the album
Juju
.
While Robert Smith was playing with The Banshees in 1983, they released a cover of the Beatles' song
Dear Prudence
. It was a big hit fro them in the UK, and I remember it getting lots of play on college and edgy rock radio stations. I don't remember there being a video for it, but here is Siouxsie performing it on the British television show
Top Of The Pops
.
One of my favorite songs was released in 1984. The band had an interesting album,
Hyæna
, and the amazingly layered song,
Dazzle
. The lyrics were smart and evocative, and delivered with just the right amount of, well, everything.
Their biggest hit in the US came in 1991 with their poppiest single to date,
Kiss Them For Me
. It made it to #23 on the Billboard Hot 100, and #8 on the Dance Tracks chart, and #1 on the Modern Rock chart. From the album
Superstition
, this is
Kiss Them For Me
.
By 1999, the band had been pretty much seen the direction of the music change dramatically. It was decided to put an end to the band. However, in 2003 they reunited for a tour, and much of their music was remastered and re-released in that same period. Siouxsie went on to be a part of The Creatures, and has had a solo career as well. Her 2007 album MantaRay was met with critical praise. For more about Siouxsie and the Banshees, check out their official webstore
here
. You can find more about Siouxsie at her official website
here
.