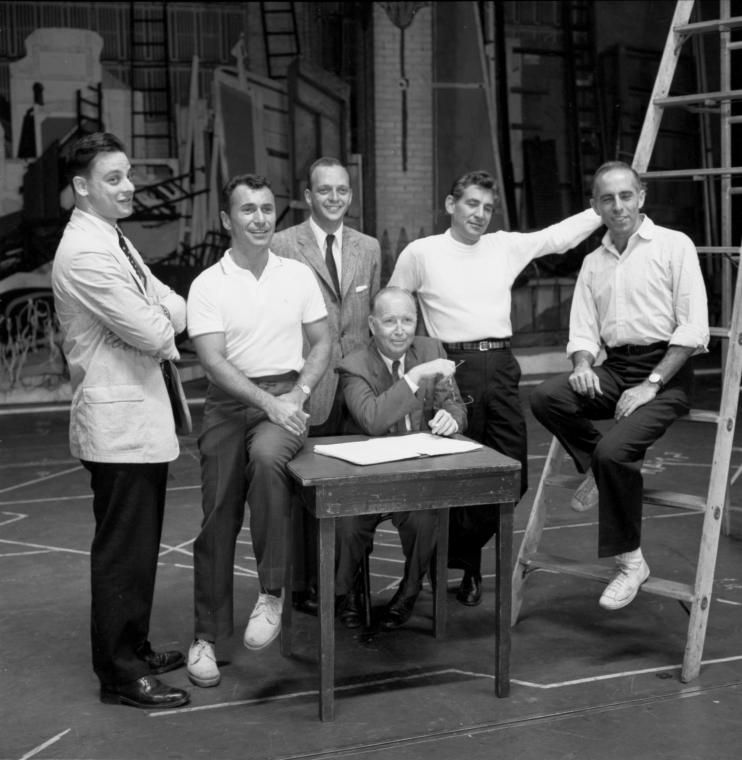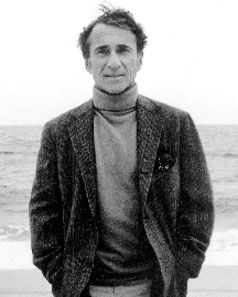 Top: Arthur Laurents. Bottom left: The crew for West Side Story, including Bernstein & Sondheim. Right: Mr. Laurents.
Last Thursday, May 5, 2011, the theater lost a giant when writer/director Arthur Laurents passed away. He was preceded in death by his partner of 52 years, Tom Hatcher in 2006. Mr. Laurents was 93 years old. In a 2000 memoir, Laurents was quite open about his relationship with Hatcher, as well as a previous relationship with actor Farley Granger.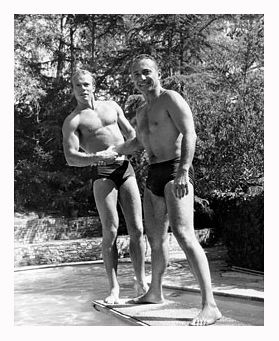 Arthur Laurents with partner Tom Hatcher.
Mr. Laurents wrote the libretto, now more commonly referred to as the book of the musical, for some of the great shows of the last 50 years. Starting in 1957, he wrote
West Side Story
, followed by
Gypsy
in 1959,
Anyone Can Whistle
in 1964,
Do I Hear a Waltz?
in 1965,
Hallelujah, Baby!
in 1967,
The Madwoman of Central Park West
in 1979, and
Nick & Nora
in 1991. I was lucky enough to see
Nick & Nora
in preview and thought it was a far better show than the critics declared it to be, and that Barry Bostwick and Joanna Gleason were quite good in it.
As a director, he helped make a star in 1962's
I Can Get It for You Wholesale
of a young, unknown named Barbra Streisand. He also directed the Sondheim show
Anyone Can Whistle
in 1964, the 1973 London production of
Gypsy
starring Angela Lansbury which transferred to Broadway the following year,
The Madwoman of Central Park West
in 1979,
La Cage Aux Folles
in 1983,
Nick & Nora
in 1991, the 2008 revival of
Gypsy
starring Patti LuPone, and the 2009 revival of West Side Story.
He was an important part of the creative team as the director of
La Cage Aux Folles
, with Jerry Herman and Harvey Fierstein. It was quite a sensation when it first came out, incorporating a few girls amongst the boys playing drag queens to up the inquisitive quotient. In 1983, this was thought to be rather risque and risky, although the audiences flocked to the theater to see it. Laurents went on to win the Tony Award for his direction of the musical.
He also worked in film, most notably as the screenwriter on the immortal
The Way We Were
and the dazzling
The Turning Point
. With
The Way We Were
, Laurents was able to utilize his time in Hollywood as a screenwriter, as well as someone whose political beliefs landed him on the famed blacklist, something touched on in the film. For The Turning Point, it is said Laurents was inspired by his love for ballet dancer Nora Kaye, with whom he had a relationship with in the early stages of his career. At the time of the film, she was married to the movie's director, Herbert Ross.
Rest in Peace, Arthur Laurents, you certainly left this world with plenty of beauty.