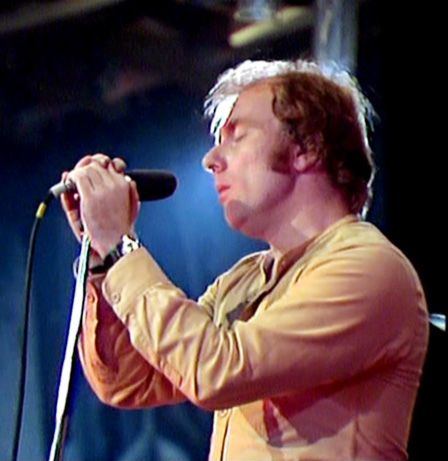 I don't know what bewitching powers Irish soul-singer Van Morrison has, but I know the minute I hear his music, I am enchanted. Whether it is the raw emotion he puts in all his work, or the total honesty found in his lyrics, the man never fails to blow me away. Whether I think of him as a singer, a songwriter, a poet, whatever, when Morrison speaks, it is time to sit back and listen.
I'll start off with one of my favorites, which has been covered by many, but never as well as when Van is singing with another great, Ray Charles. So, from the 1970 album
Moondance
, here is
Crazy Love
.
The title cut from the album is another that has been oft covered, but I still go back to the original when I want it sung right. In 1979 Morrison performed the song in Ireland. Here is
Moondance
. Much of Morrison's work seemed to be either detailing or arguing about his spiritual journey or one of love. One gets the feeling it was not an easy path for him, but it did lead to some amazing music.
The next clip was a hit song in 1964, when Morrison was part of the band Them.
Gloria
is an amazing song unto itself, but when Morrison is joined by the gifted John Lee Hooker, it takes it to another level altogether.
In 1970, Morrison had a hit with
Domino
, a single from the
His Band And The Street Choir
album. It rocked out as only Van Morrison could, from the soul out. Watch him perform on the old Midnight Special show, in 1977
Finally, in 1995 Van released this title cut from his album
Days Like This
. The release of the album was 28 years since the release of his solo music, and over 30 years since he topped the charts with his music from the band Them. But this simple and soulful lays it on the line - "his mama told him there'd be days like this." She was right.
For more about the utterly brilliant Mr. Van Morrison, you can check out his official website
here
. You can also purchase his music at almost any outlet that has music. If you haven't already, I would advise you to do it now. It is most certainly good for the soul.