After all the auditions, the drama of the Hollywood and the semifinal rounds, and 12 weeks of finalists being sent home by the voting public, it is at last time to crown a new American Idol. In the tradition of Kelly Clarkson, Ruben Studdard, Fantasia, Carrie Underwood, Taylor Hicks, Jordin Sparks, David Cook, Kris Allen and Lee DeWyze, tonight will end with either Scotty McCreery or Lauren Alaina joining that list. But before we learn who will wear the crown, we will be entertained by stars old and new who will look to create ratings magic tonight.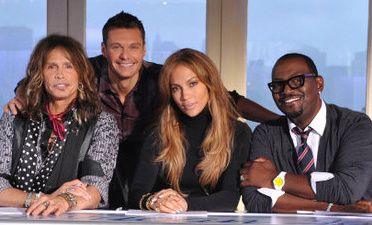 The show starts off with a mercifully short recap of last night, and a minimum of jabbering. It seems there were 122 million votes cast last night, and nearly 750 million cast this season. The Top 13 sing the first group number of the night, Lady GaGa's
Born This Way
. James is the first to perform solo, joining Judas Priest on the stage for a bit of
Living After Midnight
. James shares the lead vocals with Rob Halford.
They follow that up with
Breaking The Law
, and I seem to remember there was some sort of deal that James was going to duet with Steven Tyler. But it was fantastic seeing Halford, the first out Heavy Metal singer/musician on the music scene. Speaking of which, next we have Jacob putting that 'Lusky Stank' on a gospel hit, Kirk Franklin's
I Smile
. Soon they were joined by a surprise guest, Gladys Knight, which seemed to give Jacob reason to take it up a notch. I could've lost Jacob & Kirk, and let Gladys have the stage. She's an Idol to me!
After the break, resident 'artiste' Casey struggles with the opening notes for Queen's Fat Bottomed Girl before it became a duet with Jack Black. Quickly, it is once again official, I don't get it. I just want it to stop. No, please don't... Ugh, too late. He scatted all over that stage.
Next up we have the seven ladies of Idol, minus Lauren. They sing a medley of Beyoncé hits, starting with
Single Ladies
. All the ladies get a chance to solo, and then they are joined by Beyoncé, working the wind machines better than anyone should. She sings
Crazy In Love
, and I try to figure out why she and the ladies didn't utilize the moment to do the girl empowerment song,
Rule The World (Girls)
.
After trying to sell more tickets for the tour this summer, it was time to make fun of Steven Tyler. They show the arc of his story, from loose cannon to behaved child. Laughs galore. Next up, Haley comes out to sing with Tony Bennett. They sing the jazz great written by Irving Berlin,
Steppin' Out With My Baby
. Tony sounds fantastic as he is about to turn 85, although he did manage to lose the lyrics. Thankfully, he found them.
TLC come out to perform next. Well, T-Boz and Chili come out. They were introduced by Lil Jon and the ladies of the top 13 had their backs for the number.
Live Like You Were Dying
Scotty shares the stage with Tim McGraw for his big song. This goes better than one would expect. But I have to say, thank heaven's Tim is so pretty. He was also willing to stand back and pose pretty while Scotty went over the top. Teach him something, Tim.
Now we have the tribute to the odd acts of the audition process. It is announced by a Crusty wannabe, something scary indeed. That is followed by a number by Marc Anthony, who is joined on stage by the stupendous Sheila E! And soon, Mrs. Anthony is dancing with him on stage. There is enough salsa to go around! Have no idea if this is the right song or not, but watch Marc Anthony.
Soon, Casey and James chat about their shocking eliminations, only to be put in their place by Pia. Don't worry, it will all be forgotten soon... Next up, the guys of the Top 13 come out to perform the songs of Tom Jones, starting with Stefano singing
Kiss
, Paul singing She's A Lady, James with What's New Pussycat, Scotty on Green, Green Grass of Home, Jacob with Love Me Tonight, and Casey with Delilah. They are then joined on stage by Tom himself, singing
It's Not Unusual
. At 70, Tom is over three-times their age, and he takes over the stage. He owned them boys...
There is a last chance for the Ford Commercial, and to sing another Carrie Underwood song - you know, the last Country Idol to take Nashville by storm... They do a nice little bit with teachers who have influenced the kids, and both Scotty and Lauren invite a teacher, courtesy of Ford. They also surprise them with a car! And Ford will be offering money for educational programs! Hooray! To keep the excitement going, Crusty introduces Lady GaGa, there to sing her latest single,
The Edge of Glory
. GaGa is singing atop a giant rock formation, and dancing with a beautiful half-naked boy, writhing on the precipice. Of propriety, that is. This number worked. Not for a family show, but for me.
Lauren is up next, and she is singing Carrie's scorching song,
Before He Cheats
. We all know what is coming up next.
Carrie comes out to sing with Lauren. And we all remember why she won - Carrie's voice is exceptional.
Then there is a cute bit with the others teasing the youngsters about how young they are. It is mercifully short. Then they bring Beyoncé back out to sing
One Plus One
, her latest single. It is a lovely, expressive ballad. After another break, Crusty introduces the star of
Spider-Man, Turn Off The Dark
, Reeve Carney, to be joined by Bono and The Edge to perform
Rise Above
.
And, with just 6 minutes left, they bring out Steven Tyler to sing Aerosmith's iconic hit,
Dream On
. He is amazing on it. So good!
So, with less than just 6 minutes left, the time has come. And, finally, the work of the night. Crusty finally announce that Scotty McCreery is the winner of American Idol. He thanks God and Lauren Alaina, and sings the lame song they had for him, falling apart on the way. Surprisingly enough, the show ends on time. Congratulations Scotty,