Late in the summer, I ran a
post
for the single of Josh's upcoming album,
Got Love?
You know I love my out and proud rockers! The title song was a great rocking single, perfect for his gritty vocals. So I have purchased the album, and as with his other music, I love it. I'll get the shallow part out of the way early. Josh is quite hot, and when I seew video of him playing his low-slung guitar, I melt a little. Which he does in this live version of the first single - the official video was in the prior post.
The new release has 12 songs, all very good. I think Josh is rocking a little harder these days, and I am liking that very much.
To Be Today
kicks off the album, with a sweet opening that quickly moves to some solid guitar work. The sweet voice quickly moves aside for the growl I love. Then the title tune comes out, with a strong message and a guitar that blasts from the get-go. '
Black white doesn't matter, gay, straight, thin, or fatter
When love is the answer, got no more fear…Got Love!
I Thought You Loved Me
is next, and it is rock with a punk edge. The driving beat is matched with the intensity of the unrequited love.
Let Love In
returns to a more stadium rock approach, more melodic in nature and a a chorus that tells a lover "
Love should be easy…love shouldn't be so hard. Love can be healing…just let your guard down
."
Mother I
is a wonderful song, offering thanks to what his mother taught him, including rocking with a slight alt.rock feel. Then
If Prayer
steps up to the plate, showing off a more soulful side, complete with the astonishing lyrics "
If prayer is you really talking to GOD, Then listen to your gut cause GOD is talking to you.
"
I Fall In Love Again
slows it down and uses the piano to drive the ballad, and Josh's voice smooths it out and warms my heart.
When We Dance
adds a bit of Spanish flavor to charge the uptempo rock to another level, and really brings up the sexual quotient as well. Whoo!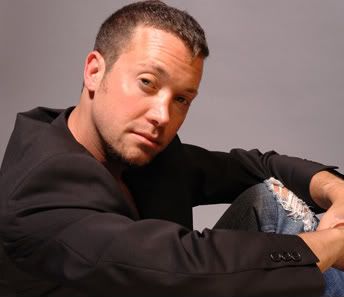 My Inspiration
is a highly personal song, a mid-tempo ballad that mixes up the feel with some interesting acoustic guitar and a little horn action.
Take
reminds me a bit of the 80s bands I loved, with tempo changes and at times a ska feel. The next song is so timely, called
Our Wedding Song
. It starts with a rocky version of the Wedding March, and then establishing what he wants to say with the third line "
And here we are with friends and family gathering to watch us as we cry With tears of joy that remind us who we are and where we were.
" The final cut is Small Percentile, which returns to the ska feel, with a bit of 70s adult film score, with the wah-wah of the guitar. The search for love is never easy, is it?
So I love the album, and am just so damn glad I bought it. Josh's music makes me happy, and a little hot. Can't ask for much more, can you? I've never seen him play live, but I think I have to do that sometime, and hopefully soon. Here is a video from an earlier album,
Out From Under
. The song is
Something Inside
, a really sexy number.
You can buy this album at
iTunes
,
CD Baby
, and
Amazon
. You can find out what Josh is up to at his website
here
.