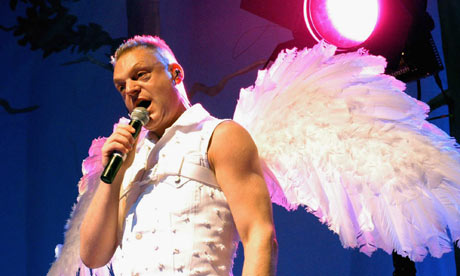 Yesterday, October 26, the Erasure album
The Innocents 21st Anniversary Edition
was released. Out and proud Andy Bell and gay-friendly Vince Clark, who was also in supergroups Depeche Mode and Yaz, started with their first release in 1985. The third album from Erasure, it originally hit the stores in 1988, and I remember rushing out and buying it immediately. The first US single was the great song
Chains of Love
. It hit #12 on the Billboard Top 100 chart, and #4 on the Billboard Dance Chart.
The next release in the US was
A Little Respect
, an amazingly song with a majorly contagious song that makes you get up and dance. Andy Bell's vocals on both songs just soared, and Vince Clark's keyboard wizardry drives the songs to new heights.
Erasure - Little Respect
Uploaded by Tunashaker. - Explore more music videos.
As well as being out, Bell announced in 2004 he is HIV Positive, and has been since 1998. To get more information on Erasure, go to their official website
here
.