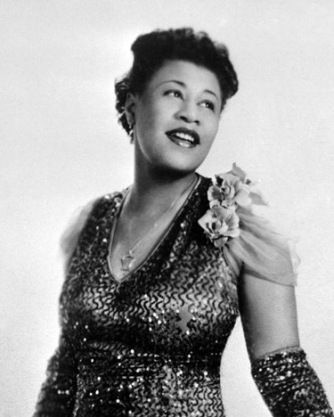 Clockwise: Anita O'Day; Sarah Vaughan; Betty Hutton; (left to right) Peggy Lee, Sarah Vaughan, Roberta Flack, and Aretha Franklin; and Ella Fitzgerald.
I was just in no mood to come up with a theme, so the best I could do is to pull a couple of names of singers who were my favorites, and then figure out what song I want them to sing. So let me start with one of my favorites, Anita O'Day. I first discovered her on the soundtrack to Torch Song Trilogy, where Harvey Feirstein used her recording of "Can't We Be Friends". For this post, I thought Anita's version of "Honeysuckle Rose" was just what the doctor ordered.
I just think there is no way possible to go wrong when you decide to listen to Ella Fitzgerald. No matter what she sings, it will be worth listening to. I thought about a classic like "A-Tisket A-Tasket" or some other great. But I decided I wanted to hear the beauty in Ella's voice, and so this is the lush "These Foolish Things".
I first heard the next song performed by Bjork, and thought it was just a delightful song she wrote. I was wrong, for it was a wonderful song first made popular by Betty Hutton, who first drew attention as a big band singer, before she became a huge star in Hollywood. Check out the comedic performance by Betty Hutton on "It's Oh So Quiet".
I really love what Sarah Vaughan brings to every song she sings. There is just an unquantifiable magic in her interpretation that truly sets her apart. When I found this clip of "Fly Me To The Moon," I couldn't wait to post it.
While trying to find the clip of Vaughan, I ran across this next one, and knew it had to be included tonight. On this medley of Duke Ellington songs, you hear the incredible line up of Aretha Franklin, Roberta Flack, Sarah Vaughan, and Peggy Lee. What a joy this is to hear - even if the video is not great quality.
Have a great Saturday night!