McKinley High School completes another school year, only this time, it is a little different. The New Directions are National Champions. Coach Sue is with child, and helped Mr. Schue lead the show choir to the win. Mr. Schue and Miss Pillsbury are not only engaged, but they put some issues aside, and share a deeper intimacy than ever before. Quinn is out of the wheelchair, and planning on taking the Ivy League by storm. Rachel and Finn are still in love, and plan to start this new part of their life together. That includes them moving to New York City, with Kurt. But this does leave Blaine alone in Ohio, taking on his senior year without the reason he transferred to McKinley. Will they all be leaving Puck behind, or can he pass the test? All these questions we hope to be answered in the final episode of season 3,
Goodbye
.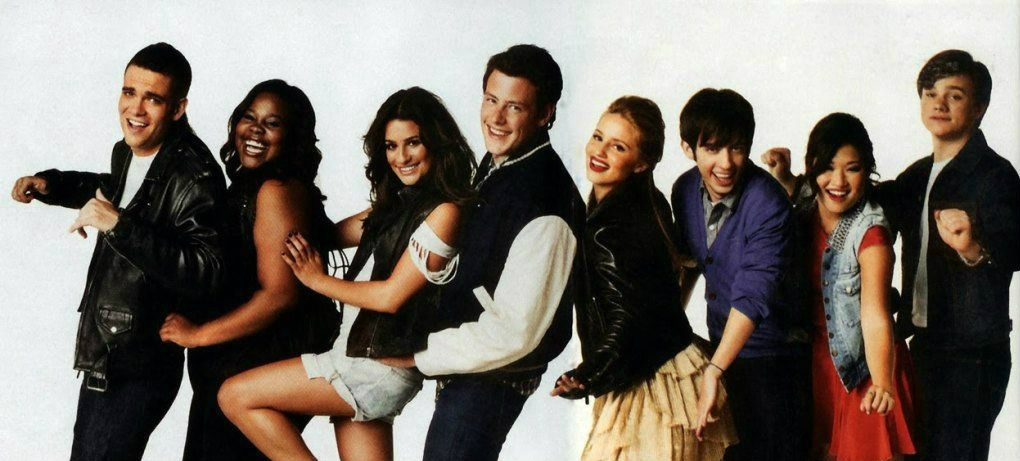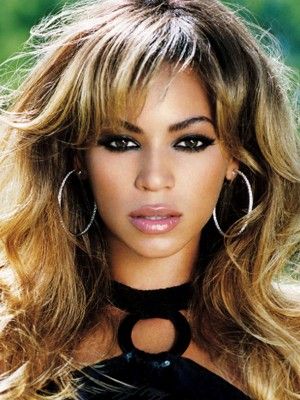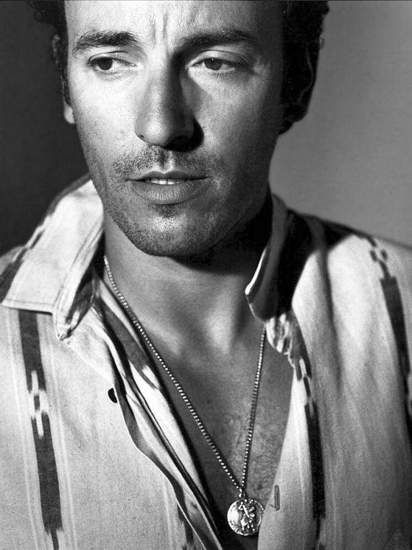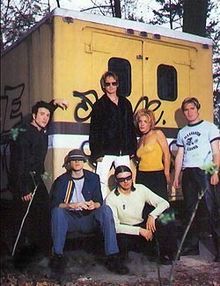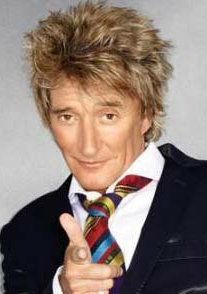 Top: The New Directions. Clockwise: Beyoncé; Bruce Springsteen; Madonna; Guys And Dolls;
Rod Stewart;
The Beatles;
Room For Two; and
New Radicals.
As Mr. Schue is walking down the hallway, he hears the kids singing in the chorus room. Artie, Tina, Kurt, Mercedes and Rachel playfully sing "Sit Down, You're Rocking The Boat," part of the score for
Guys And Dolls
.
He watches them a bit, but then takes a deep breath, and walks in. He reminds them there is nothing left to prepare for, well save the last assignment. He'd like them to prepare a song to say goodbye. The underclassmen will say goodbye to the seniors, and the seniors will say goodbye to everyone. Mr. Schue dons the guitar to kick it off with a stripped down acoustic version of "Forever Young" by Rod Stewart.
Next we see Kurt walking down the hallway, remarking on how far he has come since he was a timid freshmen at McKinley High. He is reminded how his actions has made it possible for other young gays to wear nice frocks to school. He walks into the auditorium, and finds his father there, on stage. Mr. Hummel is telling Kurt how proud he is of his son, and what they accomplished together. He reminds Kurt when they started getting honest. He found Kurt in a unitard, dancing with Brittany and Tina. They were dancing to Beyoncé's "Single Ladies (Put A Ring On It)."
Kurt can't help but laugh as his father does the number, still applauding as Mr. Hummel leaves, blowing kisses. Kurt couldn't imagine a better graduation present. Blaine reminds him of the monogrammed towels he bought for Kurt, and then mentions they need to talk. Blaine reminds him Kurt is graduating, but Blaine has another year to go. Can their love survive the distance between Lima, Ohio, and New York City? Kurt thinks they can make it work, for he has no intention of saying goodbye to Blaine, his high school sweetheart. But how will he say goodbye to everyone else? Well, he'll sing a Madonna song, of course. He dedicates "I'll Remember" to everyone, but especially the boys who never cared that he was gay.
In the hallway by Kurt's locker, Rachel comes up to Kurt and Finn to get them to agree they must open the letters from their prospective schools together, and in the chorus room. They agree. In another part of the hallway, Santana fights through a forest of balloons to find Sam and Mercedes, with Sam eager to talk about Mercedes record contract in L.A. Well, an indie label wanting her to sing backup, anyway. But Sam is so proud of his girlfriend. Santana congratulates Mercedes, and learns that Mike is getting a scholarship to dance with the Joffrey Ballet in Chicago. Santana gives him a hug, and Tina mentions Santana's plan to go to the University of Louisville. As she walks away, Santana thinks about what she wants to do, and how she is every bit as talented as Mercedes, Mike, Rachel or Kurt, so why can't she chase her dream, too? Cut to dinner, with Santana and her mother, played by the beautiful Gloria Estefan, and Brittany. She tells her mother that she wants to skip college, and head to New York. While trying to be supportive, her Mama Lopez urges her to go to school. New York will still be there when she has a degree, something Mama never got the chance to accomplish. That is when Brittany explains she is not graduating, having failed everything, and hopes to do better on her second time as a senior. If Brittany stays in Lima, maybe Santana will stay with her... Back in the chorus room the next morning, the seniors get together to sing to the underclassmen. They perform "You Get What You Give" by The New Radicals.
There were plenty of hugs and knowing glances shared, but soon we are with Finn and Rachel, talking about chairs for the reception. Finn is worried that Rachel is settling for him as her husband, but she assures him that is the one thing she is definite about. Cut to Finn walking down the hallway, thinking how his career was a success, having won a State Championship in football, and a National Championship in glee club. There is only one thing that scared him - the future. But not anymore. He's marrying his great girlfriend, and moving to New York with her and his gay step-brother. Every straight boy's dream, right? Finn thinks he nailed his audition with James Lipton. He stops by to see Mr. Schue, who was signing his yearbook. He asks Finn to sit down, and apologizes about having blackmailed him to make him join glee club. Finn mocks him, and leaves. At home, Finn is spending time with his mother and a picture of his Dad. He regrets he wasn't able to get his Dad an honorable discharge, and thinks he should have tried harder. How can he redeem his father's name if he runs to New York to be an actor? His life seems to be coming together, but not this aspect. The next morning in the chorus room, the underclassmen have a chance to say their goodbyes to the seniors. First, they have a special dedication to Finn, who as the starting quarterback on the football team, had the most to lose by joining show chorus, and treat the members with respect. They perform "In My Life," by The Beatles and written by John Lennon and Paul McCartney.
This is lovely, but I keep getting surprised Sam is not a senior. Now we travel down the hallway with Quinn, who remarks how she has gone full circle in her McKinley journey, from popular cheerleader captain, to troubled unwed mother, back to Cheerios captain again. She is so grateful and impressed with her friends, although she still worries about one - Puck. She sees Coach Beiste quizzing him, helping he prepare for the make-up exam he needs to pass. Quinn wants to give back in her last week of high school, and starts with a Metro Pass for her friend Rachel, so they can visit when Quinn is at Yale and Rachel in New York City. She also tries to help Puck study, and when he is about to quit, she tells him she loves him. They've been through too much together, and she won't let him give up. She kisses him, hoping Rachel was right - when she and Puck were together, she brought out the best in him. Cut to Puck walking down the hallway, well, really strutting. He has his swagger back, thanks to Quinn. He is ready to ace that exam. Roz, who is back to coaching the synchronized swim team, comes to see Coach Sue. But she would like to join forces with Sue to take out Principal Figgins. On her way out, she passes Quinn, who is coming to see Coach Sue. Sue tells her she first thought she was just like a younger version of herself, but now sees that isn't true. Quinn is not evil, and Sue admires that about Quinn. She provokes Quinn to tears, and a spontaneous hug. There are tears and honest love there. Cut to the hallway outside of the civics classroom, where all the kids are with Puck, waiting to get the results of the exam. He get's a C-, or, as he says, "a Puckerman A+!" He will graduate with the others. Puck is suddenly in his graduation getup, carrying his electric guitar as he sings "Glory Days" by Bruce Springsteen.
This is sung by Puck and Finn as the seniors we know and love accept their diplomas in their red cap and gowns. After the ceremony, Finn, Kurt and Rachel meet in the chorus room, ready to find out about their future. Finn opens his first, and finds out he did not get into the Actor's Studio. Kurt opens his letter, and tells them he didn't get accepted to NYADA. That leaves Rachel, and she slowly opens up the envelope, and learns she was accepted to NYADA. We cut to Rachel clearing out her locker, getting ready to leave school. All her dreams had come true; she was Prom Queen, National Show Choir Champion, and marrying the quarterback. Yet she can't be happy, worrying about her fiancee, Finn, and her good friend Kurt. She will defer school for a year, and make sure they both will be with her in New York. Santana is clearing out her locker, and her mama comes to get her for her party. She also gives Santana an envelope, her graduation present. Santana is shocked at the amount, but gives it back. She doesn't need the money - she is not going to college. Mama tells her to take the money, and move to New York, she believes in Santana and her dreams. Feel the love! Finn picks up Rachel, just as they planned for a post-graduation wedding. But Finn heads to the train station, and he tells Rachel he loves her so much, he is calling off the wedding. He won't let her put off her future because of him. She can't stay with him, he is joining the army. So he wants her to get on the train and be the star she is meant to be. Rachel is a teary mess, and they kiss goodbye. Finn walks her to the train, and all the kids are there to see her off. She sings "Roots Before Branches" by Room For Two.
The song starts in Ohio, and ends in New York, with Rachel with her mod outfit walking by Broadway theaters. I halfway expected her to be spinning around and tossing her hat in the air, a la Mary Tyler Moore. Rachel is moving to New York, and Mercedes is moving to L.A., and Mike will be in Chicago. I guess Santana is New York-bound. Quinn will be in New Haven, Connecticut, and Finn in the Army. What will Kurt do? And Puck? Guess we won't know until season four starts in the fall.