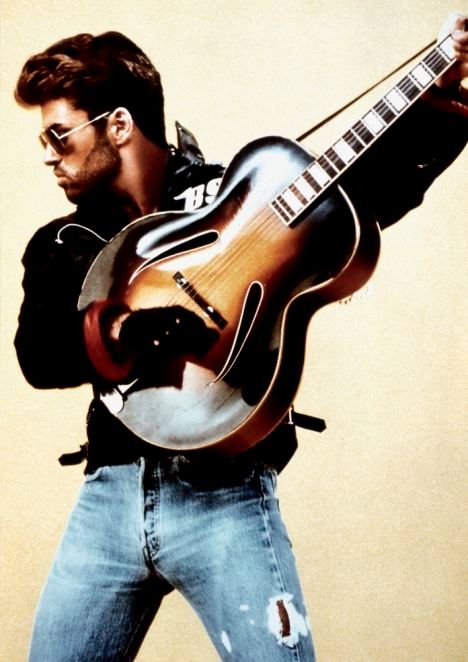 On the heels of his incredible success as half of the power-Pop duo of Wham!, George Michael went out on his own as a solo act, and was proven to be unstoppable. At no time was that more evident than in 1987, when he released his first solo album. Wham! had last smoked the US charts in 1986, when "The Edge of Heaven" made it to #10 on the Billboard Hot 100. In 1985, "I'm Your Man" made it to #3. But in 1987,
Faith
took off in ways no one expected, and made the quirky guy in Wham! a household name, and the object of lust of many girls and boys across the globe. This was quite the departure for Michael, who was last seen as a member of Wham!, cute but somewhat sexless with his bandmate/friend, Andrew Ridgeley. Embarking on a solo career, his good looks were put front and center, from shots of his denim-encased butt to shots of him playing the guitar wearing a leather jacket. Take, for instance, the first single & video off the
Faith
album, "I Want Your Sex." George had his permastubble established, singing directly to the camera, or romping with a supermodel.
You see, George was still firmly in the closet at this point. Remember, Elton John had come out about this time, after coming out as bisexual in 1976, but marrying a woman in 1984. So Michael maintained a faux-patina of heterosexuality in his videos, and fairly elusive when asked about it. Later, it was reported he feared coming out might damage his career, something we will never really know. But we were very sure that the second single off the album showed George to be a hot man. Here he is with the first single off the album to hit #1 on the Billboard Hot 100, "Faith."
The third single off the album was a dreamy song with a sexy Gospel flair. The video featured George as a New Wave cabdriver, with scenes of him smoking and driving through Freudian tunnels while a model strips down. But I have to admit, the single itself is a sexy one, with Michael singing with plenty of growl and purr. "Father Figure" was released on January 2, 1988, and hit #1 on the Billboard Hot 100 by the end of February. It was atop the charts for two weeks.
After three very successful singles, George changed things up a bit and made a beautiful ballad to be the next release. On "One More Try," he slowed it down, and sang the bejesus out of the song, giving it a strong soulful flavor. It should come as no surprise the song was George's third consecutive #1 on the US Billboard Hot 100. The hazy air in front of stained glass windows lent a feeling of a church confessional for the video, with George baring his soul. His voice is an incredible instrument, and he often used it as well or better than expected. Here, it is amazing. Check out "One More Try" again.
That was followed up by another sexy uptempo song filled with innuendo, "Monkey." That was the fourth #1 single in a row, but one of my favorites off the album the the sixth release that only reached #5, the underachiever of the group. "Kissing a Fool" was a mid-tempo ballad that had the flavor or a retro song, and the unmistakable depth of George's vocals to make it a favorite. Here is George Michael's "Kissing A Fool."
When all was said and done, George had done pretty well with his solo debut. With six singles, there were four #1s, a #2, and a #5 on the Billboard Hot 100. Also,
Faith
had over 10 million sales, achieving Diamond status. But after all the promotional tours and such for the album, George was left exhausted and lonely. After being a bit playful about his relationships for many years, he began to speak out more openly and honestly about being gay after being arrested in a Beverly Hills public rest room in the Spring of 1998. Of course, this really left him little choice but to embrace his sexuality and what effect it might have on his career, but he did. However, that was just the first of several arrests for public lewdness/public sex and some drug possession charges both in the US and in the UK. George spoke out about the issues of drugs use and his enjoyment of anonymous sex in interviews and, more recently, on his Twitter account. Which kind of moved full circle to the first single of this post, doesn't it? You can purchase
Faith
on
iTunes
and
Amazon
. You can learn more about George Michael on his
official website
, and can follow him on
Twitter
.