Last night, they all had three performances, and it was left in the voter's hands to decide who will be moving on the finals of Season 11 on American Idol. Will it be Phillip, a guy with his guitar, a winning recipe for the show the last several years? Or will it be young Jessica, following in the footsteps of Jordin Sparks? Or Joshua, blazing his own trail, giving a nod to Season 3 winner Fantasia with his fiery and inspired performances? Within the next hour, we will have that answer.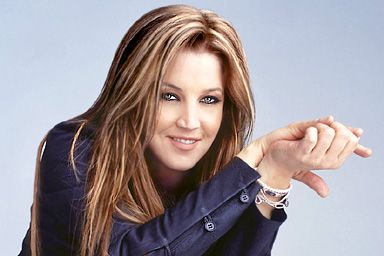 Clockwise: The American Idol Top 3 - Phillip, Jessica, and Joshua; Lisa Marie Presley; and Adam Lambert.
Crusty comes out to introduce the judges, and tell us that we will be entertained by Adam Lambert and Lisa Marie Presley. We will also have a very special performance of the Top 3, who sing the Beatles great hit, "Got To Get You Into My Life."
You can purchase the original, off the album Revolver, on
iTunes
. I am somewhat surprised, for they sounded pretty good. To be honest, Jessica was pretty much taking over the sound, and I barely noticed Phil's voice at all. Quickly, it is time for the Ford Music Video, featuring "Cinema" by Benny Benassi. Crusty jumps quickly into the results, and drags Joshua to center stage to review the performances last night. Jimmy I thought Joshua was pretty good last night, but not his best night. Jimmy I thought his first song was just okay, and the second was overdone. He thought the choice (Jimmy's choice) was lacking, but he definitely belongs in the finals. Jimmy thinks Joshua is the most exciting showman they have right now. Ryan sends Joshua back to the couch with no answer, and tells us after the break, we will watch a performance by Lisa Marie Presley. But first, there is a bit about
Ice Age - Continental Drift
, starring the voice of Jennifer Lopez. Soon the top 4 are in the studio, recording some vocals on the soundtrack. But soon it is time to introduce the daughter of The King. Yes, Lisa Marie Presley is there to sing her new single, "You Ain't Seen Nothin' Yet."
The song is a moody, bluesy song, and seems to fit her to a "T". Lisa Marie Presley's new album,
Storm and Grace
, is available on
iTunes
and
Amazon
. After another break, Crusty gives the first dates for auditions for Season 12. Then he asks Jessica to join him on the stage, and we take a look at last night. Jimmy I thought it was a nice moment, but it never came together. On the second song, he felt she also fell short. For the final number, Jimmy felt he miscalculated with the song, which needed two voices instead of one. He loves her, and thinks she is certainly in the running for the finals. After a break, Jimmy Iovine, Carole Bayer Sager, and Rita Wilson gave a few words to mark the passing of Donna Summer. Then it was time to bring out Season 8 runner-up Adam Lambert to sing his new single, "Never Close Our Eyes".
Well, he still has a remarkable instrument, that much is true. You can purchase Adam's latest album,
Trespassing
, on
iTunes
and
Amazon
. That leads to another break, and now it is time for Phillip to get the treatment. For the first song, Jimmy I thought it was good, but not great. He thinks he is defining his sound. For the second song, he thought it was boring, a snooze-fest. Jimmy thought the third song was the best of the night, and the best of the competition this year. Jimmy thought he won the competition. Obviously, he thinks it should be an all-male final. After much babbling from the judges, it is time to go to a commercial break, and when we return, the final two will be in place. After nearly 90 million votes, the first person through is Jessica Sanchez. The person meeting Jessica in the finals is Phillip, meaning Joshua is going home.
There is a video package for Joshua, and soon he is singing his way out, thrilling with James Brown's "It's A Man's Man's Man's World." I have to say I am surprised, I thought Jessica was gone for sure. Joshua hugs the judges, and soon pulls his mother up on stage for the song. Before he finishes, the plug is pulled, and it is time for the next Fox show. We are left to figure out what it means to have a Jessica vs Phillip final. Does this pave the way for Phillip, or mean more support for Jessica? We will have to tune in Next TUESDAY night to find the answer.