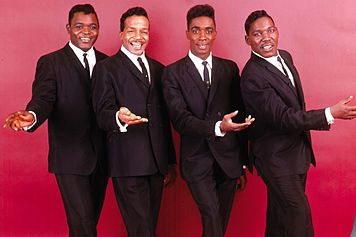 Clockwise: The Supremes; Martha & the Vandellas; Betty Everett and Jerry Butler; and The Drifters.
I would love to have some clever tale to tell about how this music reminds me of a time when I was younger, but, to tell the truth, I was four years old when these songs hit the airwaves, and don't remember. I will tell you, though, that while I don't remember them on the first release, but many of these were records in my sister's collection, so I did hear them. Take, for example, the first song I mention,
Let It Be Me
. In truth, the song was first written and recorded in France in 1955 as
Je t'appartiens
. The music was written by Gilbert Bécaud, also the first to record it. The lyrics were by Pierre Delanoë. The English language version used lyrics by Mann Curtis, and first hit the shores in 1957. But in 1964, it was a big hit for Betty Everett and Jerry Butler, two great R&B singers of the day. Butler accounted for a couple of records in Kathy's collection. Give a listen to
Let It Be Me
.
Another great hit in 1964 came from a quartet, The Drifters. And it is the song for which they are perhaps the most known,
Under The Boardwalk
. The Pop song written by Kenny Young and Arthur Resnick, and The Drifters were the first to perform it. The Drifters started out as a Doo-Wop group in the 1950s, but grew with the music and became a top R&B group. The group went through many changes over the years, as managers paid little to get the most they coupld from the group, often leaving the real performers in the cold. But they had many great hits, including
Under The Boardwalk
.
Martha & the Vandellas were one of the early great girl groups signed by Motown. Headed up by the brilliant Martha Reeves, and registered hit after hit. In just a few years, they went from Martha & the Vandellas to Martha Reeves & the Vandellas. But what never changed was the quality of their music. Here is the 1964 hit,
Dancing In The Streets
.
Before she was The Boss, before
Lady Sings The Blues
, and even before
Mahogany
, there was The Supremes, one of the most celebrated girl groups of all time. Out in front of the group was the magical and talented Miss Diana Ross, a true star for the ages. In 1964, they had their second huge hit with
Baby Love
, and there were many more to come.