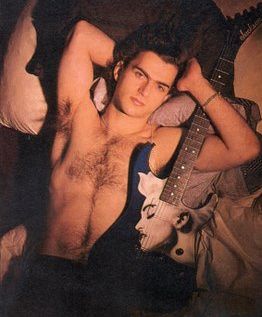 Not content with being a very good-looking man as well as the son of music legend Frank Zappa, Dweezil Zappa certainly put in plenty of time working on the craft of guitar playing, as well as working on TV, hosting shows both solo and with his brother, Ahmet. In the summer of 1986, Dweezil released his first full-length album,
Havin' A Bad Day
. It included the song he recorded with sister Moon Unit, who had already had some success when she recorded a song with her father, Frank Zappa, called
Valley Girl
, which she recorded when she was just 14 years old. When they released
Let's Talk About It
, Dweezil was just 17, and seasoned veteran Moon Unit was 19. Here they are together, with the nominal hit they worked on together.
For those who need a reminder, the following is the hit she had with her late father,
Valley Girl
. It was the sole Top 40 hit for the Legendary Frank Zappa, scoring #32 on the Billboard Hot 100.
Dweezil is still making music today, although I was surprised when I read he was 41 years old. How time flies! But it turns out he was a very good guitarist, and has been featured on many different recordings, including on Don Johnson's
Heartbeat
- where his work was the best thing on the single! I have a couple of his albums, but, oddly, not his first. Maybe I will find it out there somewhere. He will tour on occasion with
Zappa Plays Zappa
, with other young musicians who are taking the opportunity to expose a younger generation to the music of Frank Zappa. You can find out more about Dweezil on his official website,
here
. And in case you haven't figured it out, I still am kinda crushing on him all these years later!