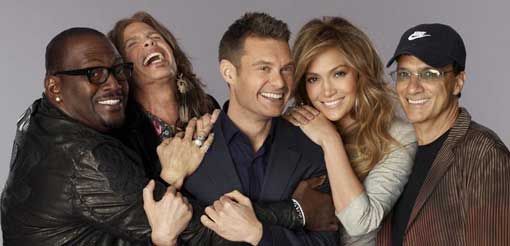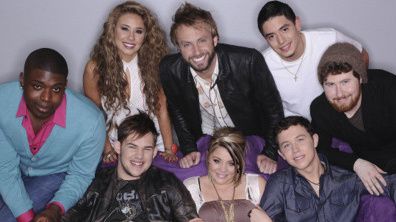 Crusty came out to say it was a great show, and there was over 53 million votes cast to help decide who was leaving tonight. I have to admit I have no idea who will be leaving tonight. I would guess it is a gentleman, but I thought the same thing last week. For me, Casey was the weakest performance, but that certainly wasn't what the judges saw/heard. First up, Lauren and Scotty performed Lady Antebellum's
American Honey
. Once again, Scotty struggled a bit with a partner, and Lauren excelled.
There is a big videotape of the zombie scene for the Ford Music video. Looks like the kids had lots of fun singing for the Neon Trees song Animals.
Next up we have Haley and Casey giving some jazz, singing the song
Moanin'
, with music by Charles Mingus and lyrics by Jon Hendricks.
Results time, with Casey, Haley, Lauren and Scotty taking the stage. After a review of last night, we discover that Scotty is safe. Lauren is safe as well, and either Casey or Haley are in the bottom. The person safe is Casey, and Haley is in the bottom. Good Lord, is another young woman leaving this week?
After the break, we learn that Rob Reiner was brought in to do a bit of stand-up, to take the attention from the contestants. This is followed by the original Idol, Kelly Clarkson, singing her latest hit, an duet with Country star Jason Aldean. They perform
Don't You Wanna Stay
. It is really a very nice song. It did go Platinum.
After the song, Kelly really brought it to Crusty, which was awfully good to see. Go Kelly! But, of course, they need to move fast, for there are more results to come.
From the film
The Graduate
, the remaining boys, Paul, Jacob, James and Stefano, sing a couple of songs by Simon & Garfunkel. First is
The Sounds of Silence
, followed by
Mrs. Robinson
. Their voices don't really blend well together, but it isn't the train wreck one might expect. It is fairly amateur night at the open mike, but not as bad as it could be. But it is time for the recap and results. We first learn that James is safe, leaving three to fill the two slots. Stefano is in the bottom. Finally, we learn that Paul is in the bottom, and Jacob is safe.
After introducing Anita Baker and Chaka Khan, two brilliant artists, we discover that Rihanna will sing her latest single,
California King Bed
. I'd rather have Anita or Chaka. This is a video with her singing the song with Jennifer Nettles of the Country supergroup Sugarland.
We are back in after the results, and we discover Haley is safe. The first gentleman to leave the Idol stage is Paul, and Stefano is safe.
He sings
Maggie May
on the way out the door.
Bye Paul.