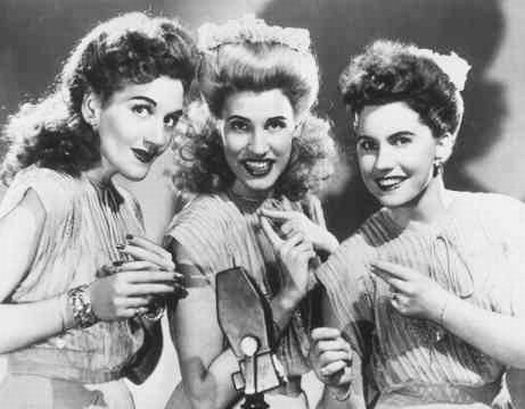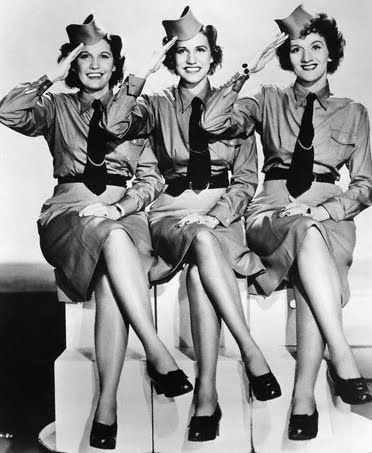 Sisters Patty, LaVerne and Maxene took the world by storm in 1938, as the Andrews Sisters started their reign at the top of the music charts, which they continued for years to come. The girls, real life sisters, not just a made up family, came from Minnesota, where they had perfected their amazing harmonies. Their first #1 single came from the Borscht Belt, with a different take on the Yiddish novelty song,
Bei Mir Bist Du Shein
.
Just a few years later, their dance card was full, as they we in demand in Hollywood, appearing in many movies during the 40s. They became the double threat, with music not only on the radio, but also in the theaters. Next up we have the a swinging dance song,
Give Me Some Skin, My Friend
from the 1941 film
In The Navy
starring Abbott & Costello.
The sisters could mix it up, and the following song is an example. They sang this stirring ballad during wartime, making it an anthem for all the girlfriends and wives left at home. This is
(I'll Be With You) In Apple Blossom Time
from the 1941 movie
Buck Privates
starring Abbott & Costello.
Perhaps one of their most well-known and covered hits, the sisters sang
Boogie Woogie Bugle Boy
in
Buck Privates
. It's booming, rollicking and rolling music was meant for movement, making it a great dance song. It was memorably covered several decades later by Bette Midler.
Don't Sit Under The Apple Tree
from the 1942 film
Private Buckaroo
. Like much of the music from the day, the song was a war song, often sung by the girls in their 'uniforms.' It is great Americana, as well as fantastic swing music!
The group ended in 1967 with the passing of eldest sister LaVerne. Maxene died in 1995, while the youngest, Patty, is still alive today. No matter, for it is their music that will live on for years to come!