Left to right: Haley, Scotty, James, Lauren, Casey & Jacob.
Normally I would run a photo of the judges directly below the kids, but thought about it, and with the terrible job the judges have done, I would let the kids stand alone at the top of the post, and then bring Steven Tyler, Jennifer Lopez and Randy Jackson, along with little buddy Ryan "Crusty" Seacrest down here.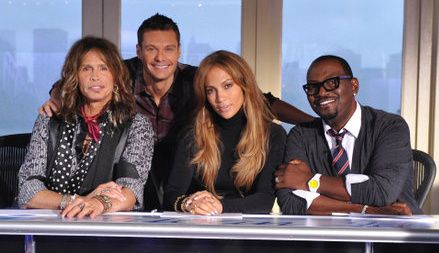 Tonight we are going to be hearing the music of legendary singer/songwriter Carole King. In the late 50s and early 60s, King partnered in music and in life with Gerry Goffin, and together they wrote some of the great music of the 60s. The list includes such hits as
Will You Still Love Me Tomorrow?, Some Kind of Wonderful, The Loco-Motion, Go Away Little Girl, Don't Say Nothing Bad (About My Baby,), One Fine Day, Up On The Roof, Oh, No Not My Baby, Don't Bring Me Down, Pleasant Valley Sunday, (You Make Me Feel Like) A Natural Woman, You've Got A Friend, So Far Away, It's Too Late
and countless others. Her songs ruled the charts in the 60s and 70s, and continued on. Tonight, not only will each contestant get the chance to sing a song of their choice, we will also be seeing three duets, making for 9 performances this evening. All songs part of the Carole King songbook.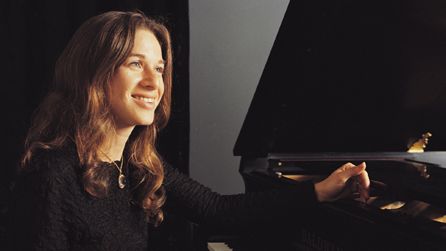 Crusty comes on and introduces the kids one at a time, trying to heighten the excitement level. Soon, the judges are introduced, as is Crusty as he comes out on to the stage. He introduces a video that highlights the incredible success King has had since starting out some 50 years ago. We also discover Jimmy Iovine will have another friend joining him, Kenny 'Babyface' Edmonds. That should mix it up a bit. I think he was a great choice for the night. Or any night, for that matter.
Jacob sings
Oh No Not My Baby
, originally sung by Maxine Brown in 1964. We get the "Lusky stank" on it, with the over-singing and endless runs. He buried a great song with a vocal floor show. When he fails, he tend to go sharp with his notes, which happened a few times tonight. As I would expect, Steven tells him it was beautiful, just what they were looking for. Jennifer acknowledges imperfection, but whitewashes it with praise. Randy tries the same, but speaks a bit more to the mistakes, and even points out the notes as sharp.
Lauren sings
Where You Lead (I Will Follow)
, with music by King and lyrics by Toni Stern. I thought it was a nice choice, and pulled a song from the
Tapestry
album that held the Country flavor. Her voice did break a time or two, but she was extending herself more than ever before. I wouldn't say great, but I would say this was good. The judges seem to dwell on the voice cracking, coming off as a lukewarm endorsement.
Duet time, and there is Haley & Casey singing
I Feel The Earth Move
, also from
Tapestry
. This is not a song I thought would be a good idea to perform tonight, especially as a duet. Honestly, Haley sang rather well, and really expanded her comfort zone, adding jazz and real emotion. Casey does his thing, which I sincerely don't get. To me, he is cheese personified. Steven is the only judge to make a comment, and he loved it. Stunning news, right?
Scotty tries to do the unexpected, so he picks
You've Got A Friend
. I thought this song was bound to be a duet, mimicking what Carole and James Taylor do with it. Babyface tells him to soften the opening, which is a great idea. It is a great song, one that lends itself to a Country interpretation, but I am not sure about the performance. It got a little needy at the end, at least to my ear. Randy loved it, as did Steven. Jennifer was crazy about it too, saying storytelling is his strength.
James is going with a love song tonight. He picks
Will You Still Love Me Tomorrow?
, the first hit for Goffin/King in 1961. He is bringing out the electric guitar, and plans to rock out with it. While the song started nicely for him, the bridge was too low, and suffered. The last note also went awry for me as well. On the whole, I found it rather pedestrian. The crowd goes wild, as do the judges. Jennifer calls it the best of the night, and Randy says the best of the season, which already had two of the best performances ever, right? Ryan forces a moment when Randy says James might just win it all. Instead, I shall offer a cover of the song by the great Bryan Ferry.
Lauren and Scotty are teaming up, singing
Up On The Roof
. I really thought this would be a great song for Jacob. Scotty struggles with duets, and Lauren seems to to shine. It happens again tonight, and Jennifer points out Lauren sung her butt off, and that Scotty was there in support.
Casey sings
Hi-De-Ho (That Old Sweet Roll)
, originally sung by Blood, Sweat & Tears. This was so predictable for me. He takes a blues number and makes it into a 30s period jazz piece. As usual, I find his vocals to lack musicality. I struggle to hear the quality the judges seem to hear. Again, the
Next up is Haley, who is singing the
Beautiful
from the
Tapestry
album. It is an interesting choice, one I hadn't really thought about. A shortened edit on the song makes it a little frenetic, but Haley sings it well. OMG, I am thinking Haley is the best of the night tonight. Steven loved it - he's loved everything tonight so far - and Jennifer says she has the best voice on the show. Randy thought it started weakly, but ended well.
I'm Into Something Good
is sung by James and Jacob, and it was originally performed by Herman & the Hermits. They had a hit in 1965. For me, this was a train wreck. I mean, was there a point in the slightest?
Even Steven Tyler has to admit that was not good, seeing the folly of that performance. Crusty calls for the recap of the solo performances, and I realize with only six, I should be rating them. I'd have to give the top spot to Haley, and #2 to Lauren. As for the boys, I am having a tough time. I didn't love any of their songs tonight, but if push comes to shove, I'd place James in the 3rd spot, and leave Scotty, Casey and Jacob in the bottom three. On the lasting effect of that duet, I'd have to think it is Jacob who will be leaving us this week. Of course, I might be wrong.