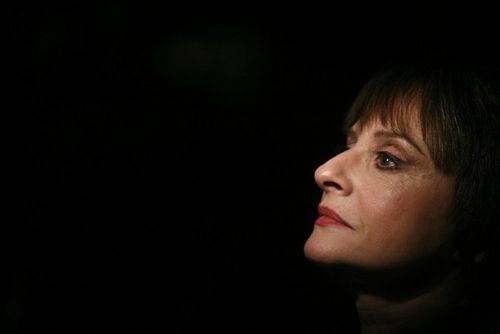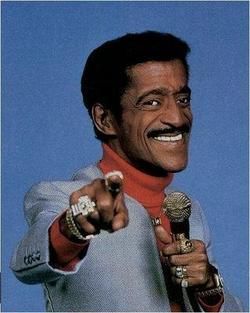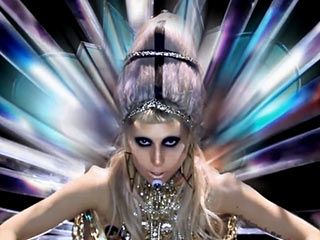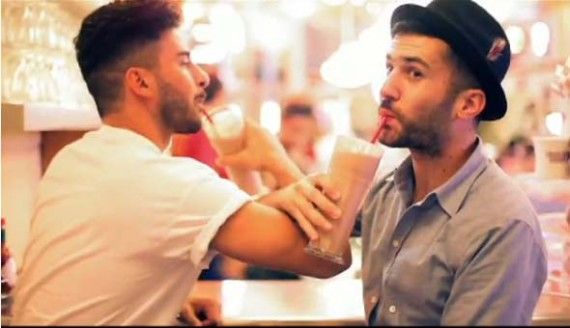 Tonight's episode features the music of Patti LuPone, Lady GaGa, TLC, Keane, West Side Story, Duck Sauce & Sammy Davis, Jr.
After the recap brings us up to date per usual, we jump into the show, with Mr. Shu wanting to get a booty camp going to help the dancing, but quickly Finn picks off Rachel with a stray arm, and breaks her nose. The doctor suggests she think about a nose job, and she is tempted. When she tells the other kids about it, Santana voices her thoughts that everyone has something they would change if they could, so Rachel should seek surgery. While heling Miss Pillsbury polish her food, Mr. Shu mentions he needs to teach the kids self-acceptance, and it occurs to him this is something Miss P could help with, as she has her own OCD issues. There will be an assignment that will feature Lad GaGa's
Born This Way
and Miss P. will help with the costumed.
After class, Santana contemplates what it would take to win the homecoming queen title. She thinks she needs the jocks, and see Dave Karovsky, and her gaydar alarm sounds. At a lunch with the kids and Kurt and Blaine, Santana has a brilliant idea, and hopefully will bring Kurt back to McKinley!
Lauren starts putting up signs to run for homecoming queen herself, which does not sit well with Quinn. After telling Puck she was a champion pageant kid, he is strangely turned on. He will help her. Quinn goes with Rachel to the doctor, cause Rachel wants her nose. They are inspired and sing their mash-up for the class,
Unpretty
by TLC and
I Feel Pretty
from West Side Story.
I Feel Pretty
Santana meets up with Karovsky, wanting to be his beard. She tells him she knows he was gay - she caught him checking out Sam's ass in the hallway. She thinks they can work together, become the homecoming king and queen, and be general heroes to the school, all the while hiding the fact they are gay and lesbian.
Quinn is not liking the lesson being taught this week, and points it out to Finn. He, on the other hand, is loving the lesson this week, and sings
I've Gotta Be Me
by Sammy Davis Jr. while dancing with the sexy and handsome Mike Chang.
Rachel brings out a a composite made by the doctor, and the kids all tell her it is a bad idea. Puck points out the girls with the nose jobs are always less hot, and Tina, with her blue contacts in, speaks of self-hatred in the self-mutilation.
Will tries to help Miss P by having her eat unwashed fruit. [Oddly, after the segment, there is a commercial about germs and biofilm in the mouth, unless you use Listerine. Go figure.] She doesn't see the humor,
Back in the chorus room, Karovsky is standing up in front of everyone, apologizing to a disgruntled group who dislike and distrust him. He also announces the change was due to the help of Santana. She comes up, and announces their 'love.' Both want to try to get Kurt back in the school, and they will start the Bully-Whips, to counteract the bullying in the school. There is much confusion.
There is a meeting in Principal Figgins' with Karovsky, Kurt, Mr. Hummel, Finn, Mr. Karovsky, and Mr. Shu, all trying to get Kurt back. After much talk, Kurt asks for a moment with Dave, and asks for the truth. Karovsky spills about Santana's involvement. Kurt demands Dave start a PFlag chapter at the school, cause Karovsky needs to be educated. But he will return. Puck demands an hour of Rachel's time before she makes a final decision about the surgery. On the courtyard, Mercedes announces that Kurt is back, and he is greeted by his McKinley friends. But there is another group that would like to talk to him, The Warblers. While Blaine will still have him in the evenings and on weekends, they will miss him. They sing
Somewhere Only We Know
by Keane.
To signal he is not only back, but he is ready to join the others, even if there is some nervousness. Kurt sings
As If We Never Said Goodbye
from the show Sunset Boulevard. The songs was first sung by Patti LuPone in the original London production. I gotta say, he nails this!
After a commercial break and I wipe a tear from my eye from Kurt's performance, we come back to Lauren pulling Quinn aside, and we discover her name is really Lucy Quinn Fabray, prior to a nose job and losing 70 pounds. Will Lauren release the photo-proof, and kill Quinn's chance to be homecoming queen? Continuing the fight for self-acceptance, Puck delivers Rachel to Kurt, who tells her show must think about remaining the amazing and singularly spectacular self, as he performs the viral hit
Barbra Streisand
by Duck Sauce. With the help of the other kids, he performs it in the mall.
We return to Miss P going to a therapist, and she spends the entire session disinfecting the chair. This a light and steady voice, she tells her she needs to treat her illness once she accepts it. There is an air of acceptance in Miss P. Back in the hallways of the school, we find the girls in the school are now looking up to "Lucy" and she is leading the polls. And Quinn respects Lauren cause she walks the halls like she owns them, just he way she was born.
Brittany gives Santana a "Lebanese" t-shirt, cause of Santana's girl-loving-ways. She is disappointed Santana doesn't love her enough to wear the shirt. The kids get together to perform, all with a t-shirt with the perceived weakness they want to own. Rachel comes in to show off her "Nose" t-shirt, and announces she will not be getting the nose job. Kurt starts the song with the t-shirt that says "Likes Boys" and things like "four eyes," "big mouth," and "bad attitude," among others. Miss P joins the group with her "OCD" shirt, matching Mr. Shu's "Butt Chin" shirt. Kurt is singing
Born This Way
by Lady GaGa.
There is much joy as the kids perform on the stage, while there is a lack of joy with Santana and Dave, who were watching from the seats, restrained by their own imposed handcuffs.