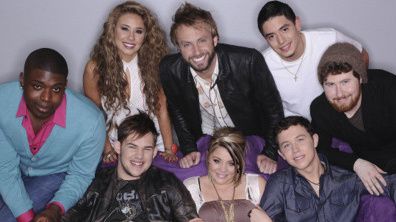 We are back once again with American Idol, this week celebrating the amazing catalog of movie music available to the contestants. Crusty comes out to talk about Jennifer Lopez being named The World's Most Beautiful Woman in the World by People magazine. The nice thing was that it seemed to upstage the bleatings about Pia being sent home.
Paul is up first, and he picks
Old Time Rock And Roll
by the deep-voiced Bob Seger. Meeting with Will.i.am and Jimmy Iovine, they make the gay-baiting jokes Nigel must miss with Simon gone. For the record, I don't think many are interested in seeing Paul dance in his tighty whities. Paul once again dons a suit of roses, this time in black. He sings it well, for Paul. Although he is as on key as that voice can be, it does tend to point out the shallowness of his voice, a seeming lack of depth. I like Paul, but I'm not sure that was a great song choice. Not surprising, the judges disagree with me, and think it was a fantastic way to open the show.
Lauren sings Miley Cyrus'
The Climb
. Jimmy I gets all insulting about Cyrus' singing, embarrassing the teen. He and Will.i.am get into a war of words about Pia's fans. Who said it was about the music or the kids? Lauren goes out on stage with her best styling so far. She looks fantastic. She sounds good, but there was a couple of bad notes in the chorus, hidden under the clutter of background singers. The judges think it was fantastic, and 'Idol-worthy.' She clearly out-sings the Disney star, there is no question. But was it enough?
Stefano is the next to take to the stage. Being in the bottom three the last two weeks, he will need to work hard to be safe this week. He talks about the struggle he had with being safe and Pia gone. Will.i.am and Jimmy I try to pick him up, to get him on an even keel.
End of The Road
, the epic song by Boys2Men, is Paul's choice for tonight. It is just the type of song he likes to sing, when he can get overly emotional. While it might be his best performance in a few weeks, it still isn't all that great. Got a bit shrill at moments, overly nasal. The song saved him on that one. The judges once again love him, although Tyler used the unfortunate phrase about milking a song.
Will Scotty stays deep in his lane, or might he try to expand his borders just a bit. He is singing Harry Nilsson's
Everybody's Talking
at the beginning of the segment, only to change his mind later. He settles on
I Cross My Heart
by George Strait from the
Pure Country
soundtrack. Jimmy I thinks he should stick with the Nilsson, but to no avail. I found the choice to be rather pedestrian, and the final note was off, a bit unfortunate, really. And, if you really compare him to a legend like Strait, you see how empty his vocals can be. The judges love him, and seem to miss the need to mention any faults. Randy seems to have started the coronation of Scotty. Wow, that was a bit early. Or is he really leading the vote totals by that much? Hmmm.
Casey is up next, and will be singing the music of the great Nat King Cole. He is planning on doing
Nature Boy
, and Jimmy I and Will.i.am talk him out of it, singing instead Phil Collins'
In The Air Tonight
. After must contemplation, Casey returns to Nat King Cole, and
Nature Boy
. Jimmy I is not impressed. There is a cool jazz arrangement, but the vocals are lacking. He is making runs, and hitting about half the notes. The arrangement digresses into a muddle. The judges give him a standing ovation. I am at a complete loss. Jennifer blows loud and hard about selling records, like Casey will sell big. Randy calls it brilliant, absolutely genius. Tyler calls him an artist, a true sense of the word.
Haley is choosing to go with some classic Rock/Pop, picking
Call Me
by Blondie. Jimmy I is thrilled with Haley, and how she is delivering the last few weeks. Taking on a vocal of the iconic Debbie Harry is a tall order. The songs starts off a bit weak, but she comes on strong on the chorus. The bridge is a bit lost, but the chorus comes back to save the performance. Randy, Steven and Jennifer are luke warm, blaming the song. Jennifer, however, doesn't want a girl to go home! Not her strongest, but not her weakest, either. Isn't it time a guy went home?
In the next to last slot, we have Jacob. He is singing a song from the soundtrack from the movie
The Pursuit of Happyness
. He goes into to the session with Will.i.am and Jimmy I thinking he might sing
The Impossible Dream
from
the Fantastiks
. Jimmy & Will veto the choice, and suggest
Bridge Over Troubled Water
by the great Simon & Garfunkel, cause the other is corny... Yeah,
BOTW
is so new and fresh, Jimmy I. Jimmy also smacks him a bit about preaching to America, then tells him to sing gospel once again. Irony, right? Well, Jacob doesn't oversing as much as I feared he might, but I didn't feel much musicality in it, just vocal calisthenics. Of course, the judges thought he was stupendous, and brilliant. I sit on the sofa, blinking. Am I awake?
James will be singing the theme song to the movie
Heavy Metal
. Sammy Hagar sang the title song form the movie. Jimmy doesn't feel the song at all, neither does Will.i.am, but James is standing fast, and refusing to listen. The best part of the song is the guitar solo, and James wasn't playing it [is that really Zak Wylde? That is cool.] I love me some metal, but that wasn't great metal. I was as impressed as Jimmy I was. Once again, I am reminded of Adam Lambert, and that isn't a good thing for James in my book. Just sayin'...
The recap is upon us, and suddenly Paul doesn't seem as mediocre as I thought he did. In fact, little stood out for me tonight, except for in a bad way for a few people. Like Casey. Like James. Like, well, the other boys. Surely, this is finally a week a guy is sent home, right?
Jennifer mentioned during the critique of Scotty that "everyone wants us to be tougher" and I will admit, I am one of them. Not asking the judges to be mean, or to pull Simon quotes out. Just asking them to do their job, and actually critique the singers. Jennifer, don't defend the fact you are collecting huge sums of money blowing smoke up young performers ass and making it sound like these kids will be selling millions of records. History tells us that isn't happening, so just be honest. Tell us a complete assessment of their performance, cause that is what is expected of you.