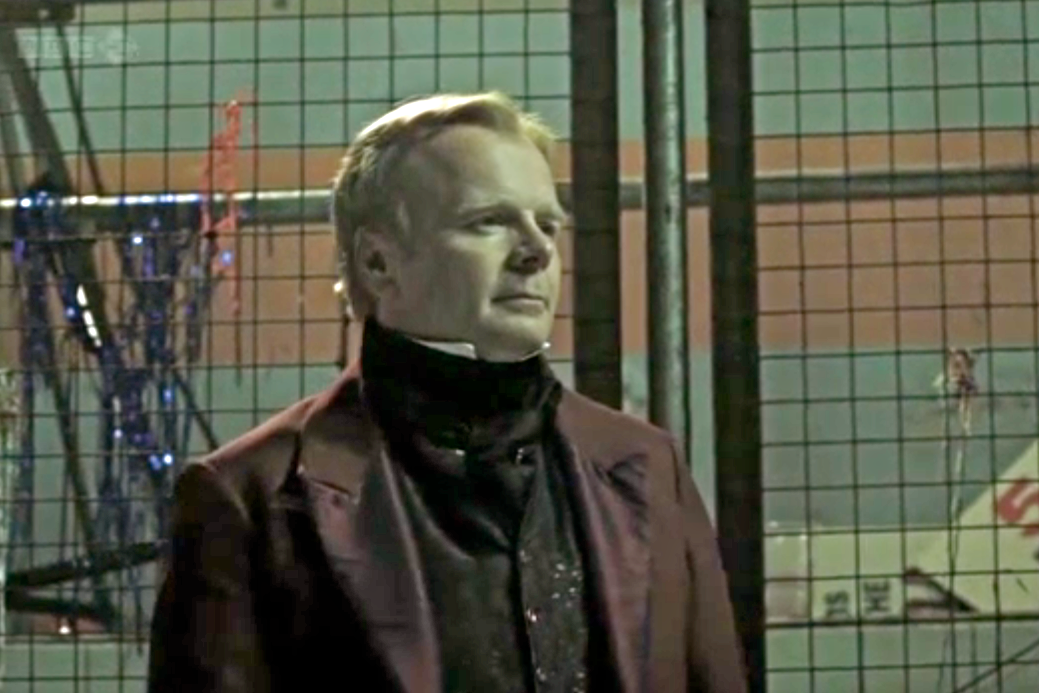 Tonight at 9PM/8PM Central on BBC America, we have the opportunity to watch the 7th episode of the 8-show season. This season has really kept me on the edge of my seat, and not just because I am perched to jump the bones of either Mitchell or George. In the last 20 minutes of the last episode, we learned George's father wasn't a ghost, just an down-trodden man yearning for release. He gets the release when he punched the bossy gym teacher, winning his wife back. This was a shock because not only did we think him dead for most of the show, but he was also caught dancing to
The Promise
by Girls Aloud. George contemplates staying with his new-reformed nuclear family, but soon realized he was far better off with his new family, Nina, Annie and Mitchell. And Mitchell tells the detective about Daisy, but she also wants to speak to Herrick about Mitchell. When she does, Herrick is sniffing around like a dog after a bone.
This episode opens with a scene showing Herrick in a ringmaster outfit, in the cages set up for the werewolf games. He is chatting away, and soon we see to whom he speaks. It is "human" McNair, who was put in with a werewolf and somehow stunned everyone, and is the one lives. After listening to Herrick pontificate on and on, we notice something, a bit of blood. Seems McNair, played by the delicious Robson Green, was scratched by the werewolf. And so another werewolf enters the world. Zoom forward, and Annie is hard at work trying to sort out the investigation of the box Tunnel Massacre, as Mitchell tries to tell her who disastrous it would be if a vampire was arrested, and people had to come face -to-face with the reality of the supernatural. But the ghost ain't buying into his argument. When the police detective reports to her boss, he just wants her to give up, as her investigation has led to stories and innuendo, no real facts.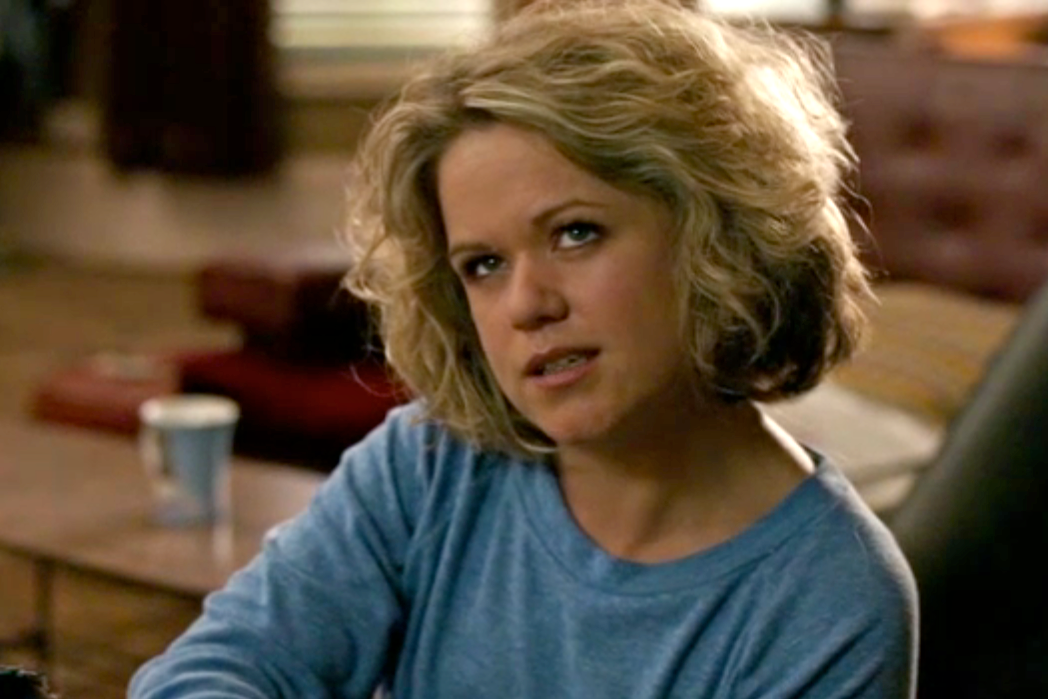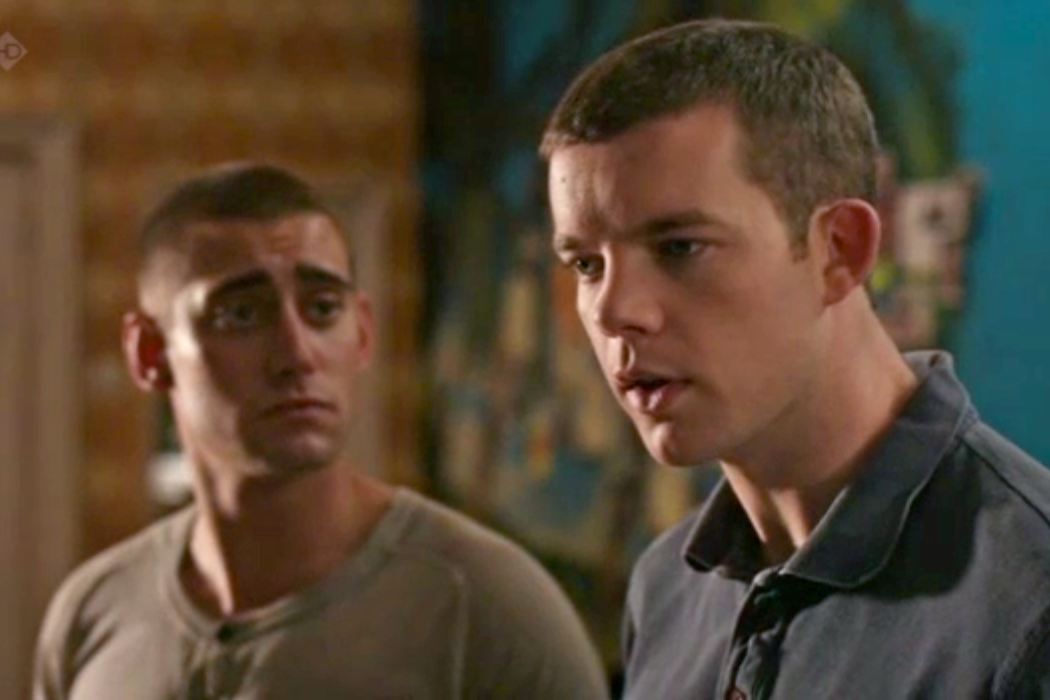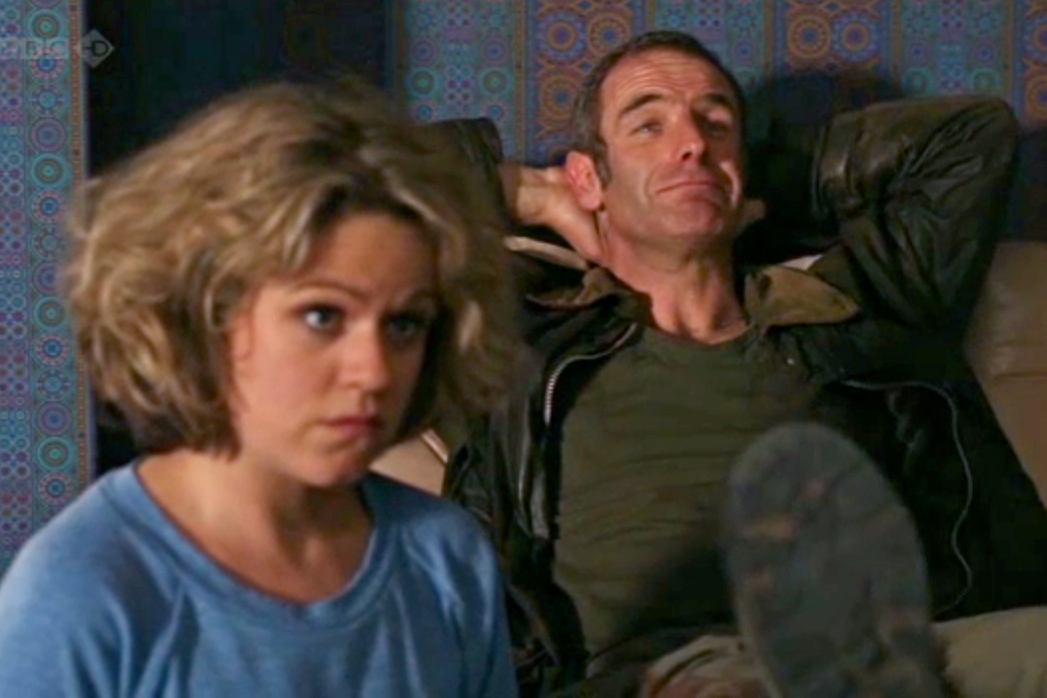 As Nina shaves a recovering Herrick, he speaks to her about the realization he is a vampire, and his confusion about it, and the fear. She tells him to stay appalled by it, to try and defeat the hunger. And he admits to giving the scrapbook to the detective. As that thought settles in, the doorbell rings, and it is McNair being helped in by Tom, as his leg as a cut. Nina goes into action. Is it wrong I want to be Nina, on my knees tending to McNair's wound? They talk, and McNair notices Nina has a bit of a baby-bump, and surprised she and George have not been bothered by the vampires, who have been chasing he and Tom around. He suggests it might be because of Mitchell. Meanwhile, in the other room, George is inviting Tom to stay with them, for he shouldn't be chasing and killing vampires, he should be dating, getting sexually transmitted diseases and hangovers. As they return to the living room, all are surprised when McNair announces they are staying a couple of days, and even suggests Tom and George go out for a pint.
The detective takes to the bathroom for time to think, and Annie goes on a deep monologue [the detective can't hear], clearing Mitchell, but still wanting to pursue the killer. The detective, on the other hand, wants to continue to chase Mitchell. Annie believes this is at least a partial victory, and we hear the beat of drums in the background. Cut to Mitchell walking down the street smoking a cigarette, and we hear the Detroit Social Club doing a version of Johnny Cash's
God's Gonna Cut You Down
.
Annie zips home in a ghostly way, and as Mitchell comes in, she wants to know his plans. He is going upstairs. He has plans to talk to Herrick. Although Herrick seems afraid, Mitchell will not go easy, trying to figure out how he survived the werewolf attack. Mitchell knows he is still Herrick, even if others don't believe him. He has the answer that just might save Mitchell from the Wolf-Shaped Bullet. Downstairs, Annie announces she knows who murdered the people on the train to a surprised Nina and George, telling them it was Daisy. George is shocked, cause he did have that fling with her... Nina thought it was Mitchell who had, and was shocked as well. The detective shows up to question him again, and I swear, the more trouble he gets into, the hotter he looks. They talk about the scrapbook, and he tells her it was't his, it belonged to Graham, which is true. She think she is lying, and tells him that. She wants to see Uncle Billy, who we know is Herrick. Mitchell goes up to tell him, and he tells Mitchell he cannot be trusted. Mitchell speaks about how they were both at war when they met so long ago, and how they are still at war today. It might be a secret war, but it rages on nonetheless. He'd like Herrick to let nature take its course. Herrick implores him to not let the detective near him.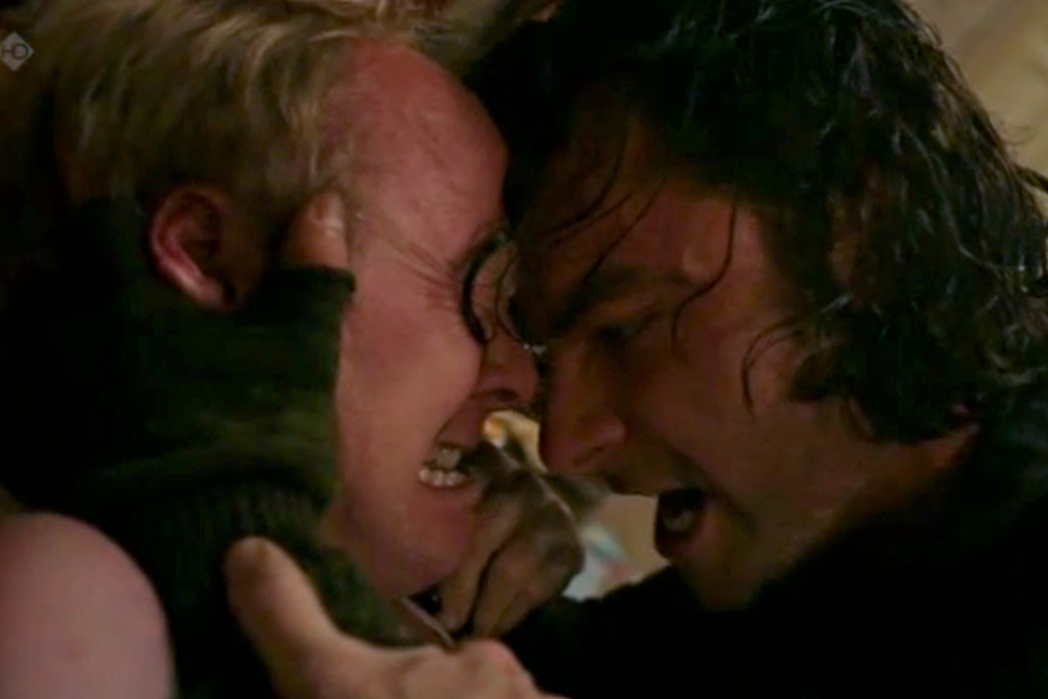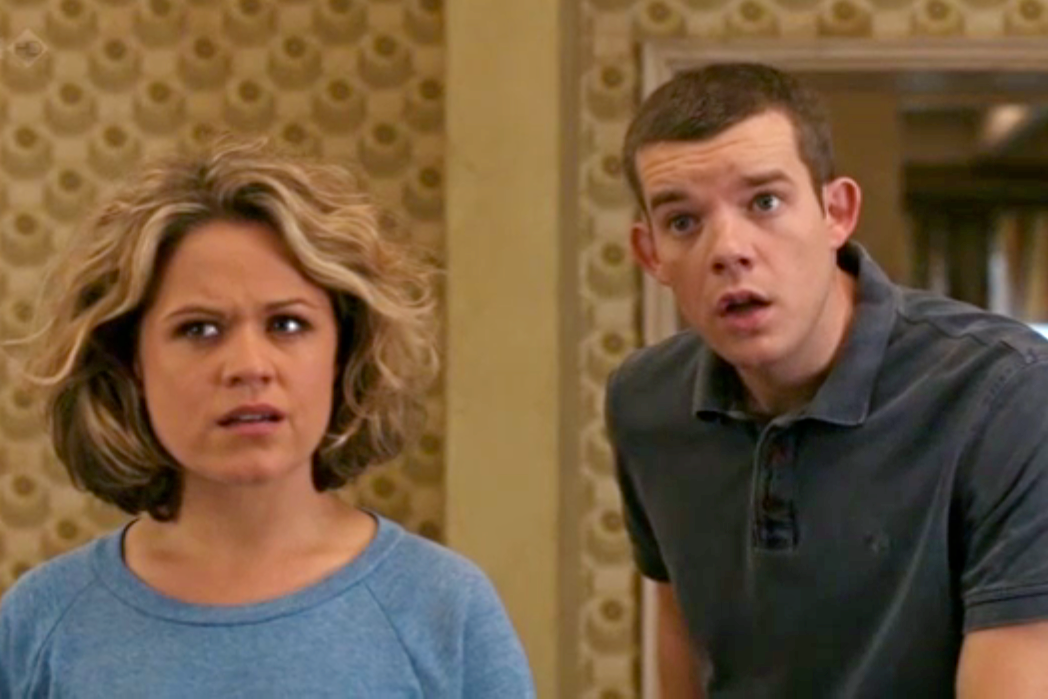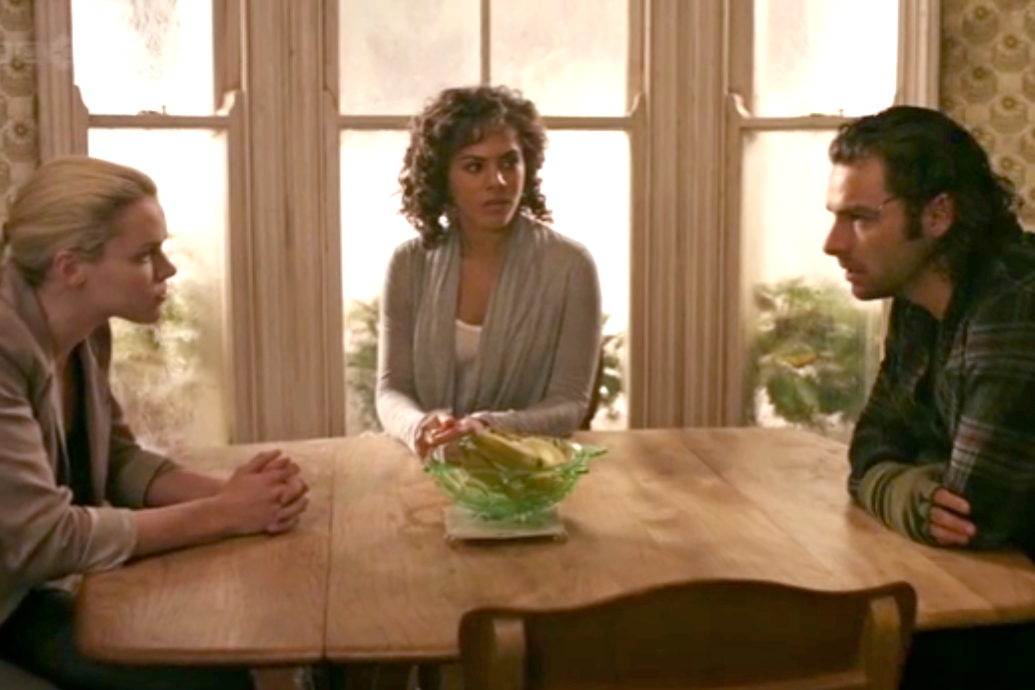 Nina tries to backpedal a bit, admitting to the detective that she was the one who called with the tip about Mitchell, but now she thinks she was mistaken. The detective is getting angry now, feeling lied to. She hands Mitchell a glass as she goes up to speak to Herrick. He puts it on an end table, and follows her up the stairs and to Herrick. She presses him with some questions, while Herrick hears the beat of her heart and feels the thirst. As he comes on her, Mitchell breaks in, grabs the detective and sends her on her way, effectively saving her life. On her way out, she snags the glass, and will now have Mitchell's fingerprints to compare. There is a quick cut to the scene of Nina, Tom and George getting ready to their transformations, as it is the full moon and all. We hear the familiar sound of Duran Duran's
Hungry Like The Wolf
as they get ready, and Nina notices that Tom's bird is decidedly larger than George's.
While the song plays, we also see Herrick snagging a knife, while Nina made his bed, and Tom trying to make McNair more comfy on the sofa. We also see Nina noticing the appearance of her bump, too. But she, George and Tom must be off to transform, leaving McNair the comfort of their basement while he recovers. Tom is sad to leave McNair behind. Once he is alone, McNair pops right up, and goes to the pad of paper, righting a note. Is he planning to leave, and saying goodbye to Tom?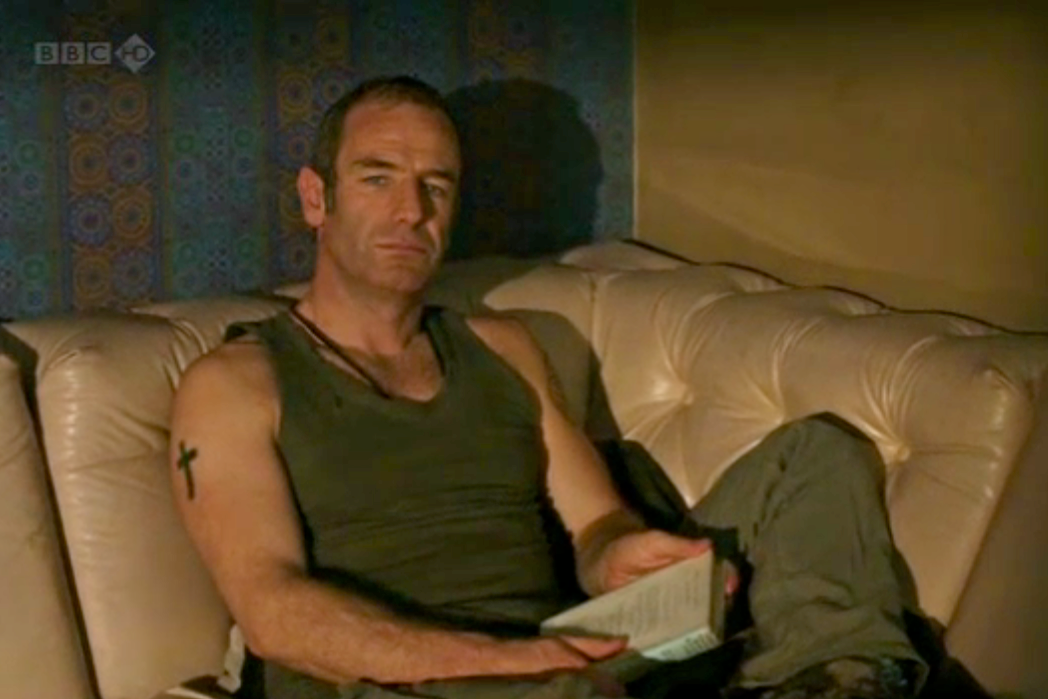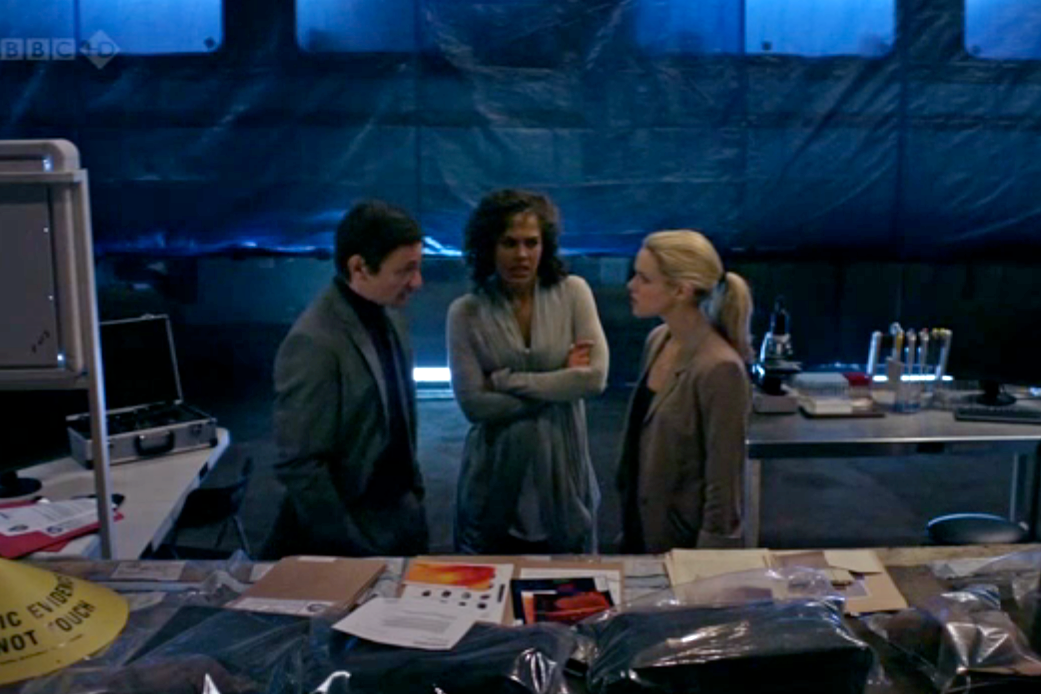 Annie is with the detective, who is touring the evidence lab, where they have the train car from the massacre. She finds out that Mitchell's fingerprints were found, and he should be 85 or something, and they were linked to a murder in 1960. Oh, this is not getting pretty, is it? Annie is there, and not happy this was being uncovered. Oh, and they also matched prints in the train, so he is "the guy." Annie is devastated. As the detective and her boss discuss it further, he punches her, knocking her to the ground. He is a vampire, and he's trying to protect Mitchell.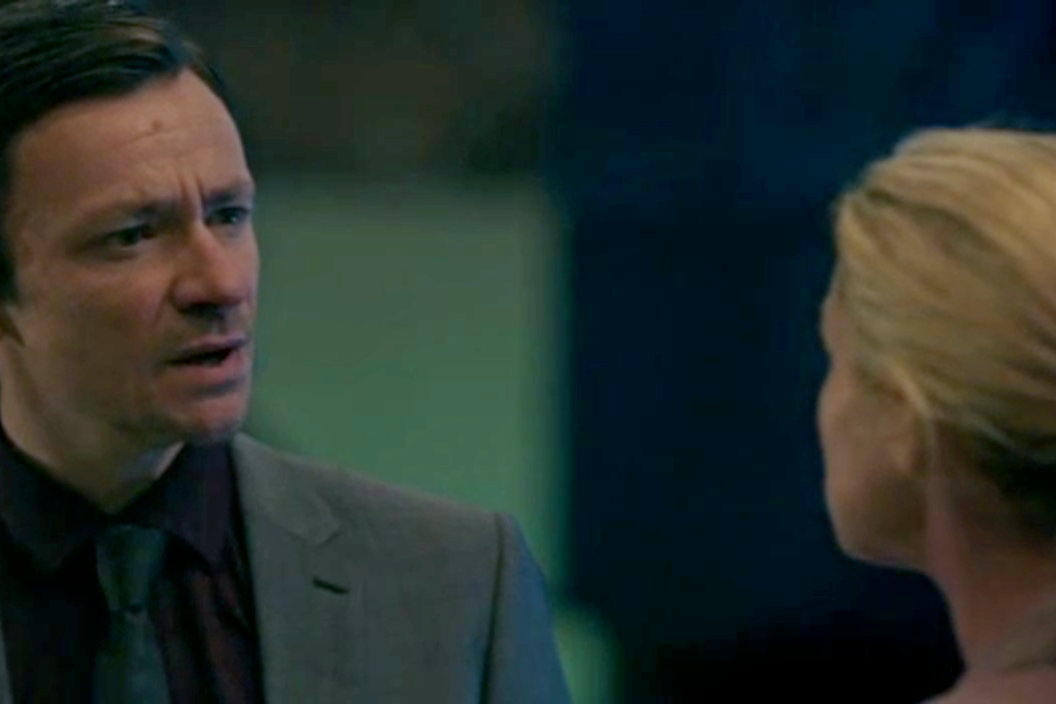 Mitchell, meanwhile, walks into the empty house, and turns on a light. He grabs a drink from the fridge, and sits down. We see McNair come out, about to transform, and putting on his necklace of vampire fangs. Might he be the wolf-shaped-bullet? He sneaks up the stairs, not disturbing Mitchell. Cut back to the lab, and the detective on the ground, hearing her boss ramble on about the problems it will be to cover this up. She kicks him and runs away. She tries to call for back-up, only to discover no signal on her phone... She tries to arrest him, but he tells her you can't, and that vampires need to remain hidden, for the good of all society. He grabs her, and tells her she is going to get an evolutionary promotion, and gets all vampire-like, and moves to bite her.
OMG, people, no really! The last twenty minutes of this show is just out of control, epic amazing. What does McNair have in store for the house tonight? Will the detective get drained? Will George, Nina and Tom be safe out in the woods with all this going on? Why is Nina showing signs of pregnancy so quickly? Will Herrick feel like he has deja vu? Will Annie confront Mitchell with what she knows? Will Mitchell be arrested? Will they try to take a mug shot? In the midst of this, why do we hear Dame Shirley Bassey and Propellerheads perform
History Repeating
?