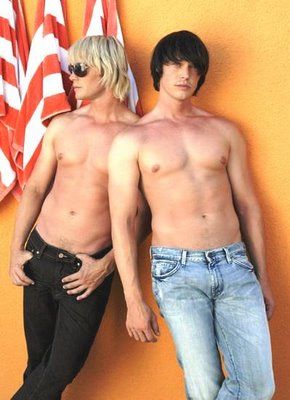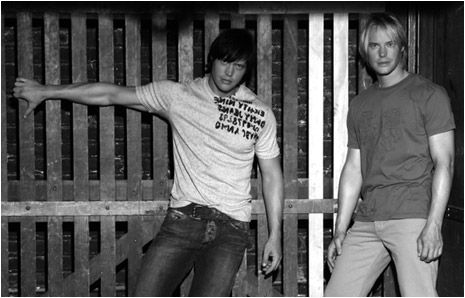 Jacob (blond) and Joshua (brunette)
I was going to include Jacob and Josh Miller in my 'Cover Boy' series, for their startling good looks could appear on the cover of any magazine. The boys achieved a bit of notoriety in 2006 when they had a reality series on LOGO called
Jacob And Joshua: Nemesis Rising
, following the exploits of gay twins trying to make it in the music business in Los Angeles. I will admit I never saw the show, but I did buy the album,
Rise Up
, when it was released in September of 2006, based on hearing the first single,
Number 1 In Heaven
. I loved the song, thought it was great fun. And it certainly didn't hurt that the boys were beautiful to look at...
I am not sure when, but at some point they released a cover of
Most Beautiful Girl
, the huge hit for Country superstar Charlie Rich, a crossover #1 from 1973. Needless to say, Jacob and Josh's version is not country, instead pure electronic Pop.
In 2008, they released remixes of a song from the album. Originally sung by Brit Chris Rea in 1978,
Fool (If you think It's Over)
seemed like an unlikely song for the brothers, but it turned out very well. The following is a a dance remix.
Before the show hit the air, the boys, who were raised in a Jehovah's Witness household in Kalispell, Montana. Needless to say, the announcement that they were gay did not fly well, and the twins were in fact excommunicated by their church, making it tough on the family. To bring it to the present day, the boys are in the studio, recording. For more about them, check them out on Facebook
here
and on Twitter
here
.