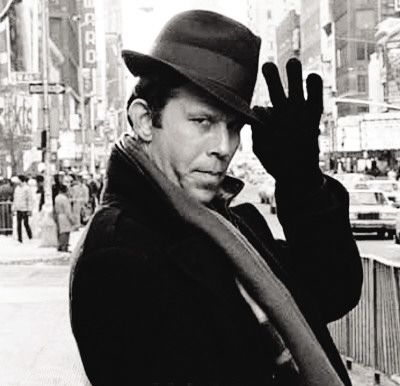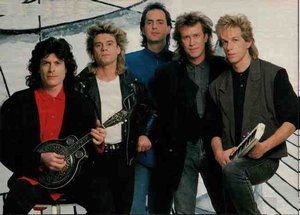 Clockwise: Tom Waits; Bruce Springsteen; Billy Bragg; and The Hooters.
For Labor Day Weekend, I thought I would showcase some songs that spoke to the very people the weekend celebrates - the working men and women who made this country strong. In 1931, lyricist E. Y. "Yip" Harburg and composer Jay Gorney wrote a song about surviving the Great Depression, felt so heavily by the working class when the stock market collapsed in 1929. Harburg, who is now perhaps best known for writing the lyrics for
The Wizard of Oz
, including the classic
Over The Rainbow
. The result of their collaboration was
Brother, Can You Spare A Dime?
, made famous by both Rudy Vallee and Bing Crosby, both who had a hit, making it to #1 on the charts. But I decided to go with the version from 1976, sung by the talented Tom Waits.
The next song was written by Joe Hill in 1913.
There Is Power In A Union
was recorded by my beloved Billy Bragg singing from his 1986 album,
Talking To The Taxman About Poetry
. It is certainly self-explanatory, written and performed to show support for the labor unions.
In 2006, Bruce Springsteen performed a tribute to the amazing Pete Seeger on The Late Show with Conan O'Brien. He played
Pay Me My Money Down
, a song included on his 2006 album,
We Shall Overcome: The Seeger Sessions
. The song was thought to be a "work song" for the the dock workers on the islands off the Georgia Coast. It was also thought to be a slave song, based on old Negro Spirituals. It was performed by the Weavers at the 1955 Carnegie Hall Concert, bringing the song back to the public. Here is Bruce's joyous performance.
The final song I am offering up was written in 1961 by Hedy West, a folk singer/songwriter and strong part of the folk revival of the 60s.
500 Miles
was first made popular by the Kingston Trio in 1962, who scored #3 on the music charts. It was also a popular track for Peter, Paul & Mary at the same time. It spoke to the railway workers who left home to work, and were often left on the road broke and unemployed by the greedy railroad bosses. I decided to go with a version by Philadelphia's The Hooters, a band I have always loved. It was on their 1989 album
Zig Zag
, and had background vocals by Peter, Paul &Mary.
Hope you are enjoying the long weekend, and remembering all the working people who made this country great!