When I heard JD Doyle was working on a musical collection, I couldn't wait to check it out. After all, JD has long been the curator at Queer Music History, documenting and celebrating the music and artists of the LGBT community. Long before I became friends with JD, I was checking out the site, and listening to his radio shows and podcasts, discovering new and remarkable talents for my own collection. Now that I have gotten to know JD, it is no different, for I still not only enjoy his work, I also learn from it, and continue to expand my music library. So hearing he was producing an e-album, I was excited to learn more about it. I was also thrilled when JD agreed to answer a few of my questions about 'House Blend', a benefit CD for the New Building Fund of the Houston Transgender Center & Archives that features Transgender artists and songs.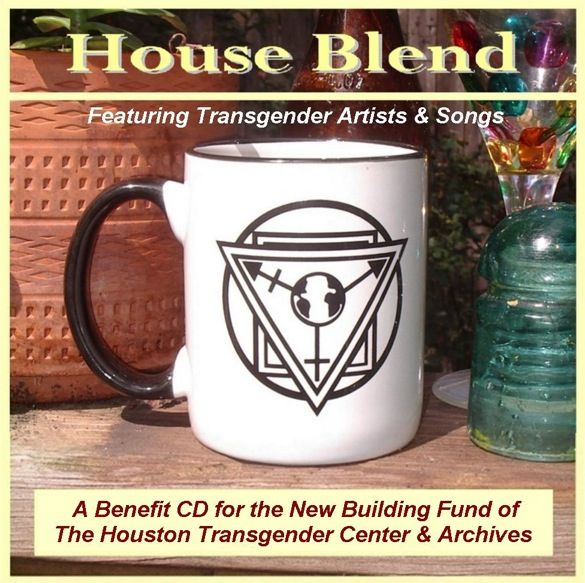 As I mentioned, I was excited to get the opportunity to ask JD a few questions about the project. I will also play a few of the songs, just to give you a taste of the great music offered by the collection. Right off the bat, I wanted to know what inspired JD to take on the project for the Transgender Foundation of America?
JD: In Houston the Trans community is well-organized and consists of several groups, and each Spring a Unity Banquet is held. I attended that in April and heard them announce the new Building Fund. While I love their current facility, it is obvious it is too small and they need more space for meeting areas and their wonderful Trans archives. That night after the banquet I got the idea for this project to help them. I love playing the music of Trans artists on my shows and giving them the exposure they just do not get. So in my show's history I've done 14 editions devoted especially to these artists, totaling about 30 hours...if anyone knows what music is out there, well, I do. The CD name of course comes from it being a fundraiser for a house and it's a blend of music genres. They gave away the coffee cups shown on the cover at the banquet.
Did you approach the artists, or did they find you?
JD: This was a dream project, and I got to pick the cream of the cream of the music I have loved over the years. And I pretty much got every song I requested, so, I contacted them...no one would have known of the project unless I reached out to them. The intent originally was about 15 tracks, but I've little discipline when picking good music, so the final count is 21 tracks. The only, and very minor, limitation I faced is that with a project like this, and copyright laws, you cannot include cover versions of songs. It would take too long to get the rights from whoever owns them. So these are all originals, and that better reflects their creativity.
That was The Shondes singing "The Garden", the title cut off the album released just last month. I love the song. But now back to the topic at hand, JD and 'Houseblend'. What did you want to accomplish with the music?
JD: I had kind of a musical vision that is hard to describe, as far as the "sound" is considered, and I like lots of genres. But I've always been biased to music where the lyrics deal with our community, and in this case talk about Trans and gender issues. In hindsight the overall sound rocks a bit more than I thought it would, which is a good thing.
Are all the artists transgender?
JD: Most of the artists are transgender, although that was not a ruling criteria, but they are all LGBT. There are several lesbian and gay acts whose songs about Trans issues I found delightful or of educational importance, such as the tracks by Kate Reid, Jeff Heiskell, Tim'm T West, and the Kinsey Sicks. New York City pop/dance star Ari Gold, who I've known many years, was very pleased to contribute a track, and I asked for the one with guest vocals by drag performer Peppermint, and Trans singer Mila Jam. Of course I hope this CD's audience is more than just those loving transgender artists; this is good music for anyone.
That, of course, was Sir Ari Gold singing "If I Steal Your Boyfriend" featuring Peppermint and Mila Jam. The song was featured on Gold's amazing 2011 album, 'Between The Spirit & the Flesh'. But back to JD and the collection. Is this the first transgender artist compilation?
JD: Actually, no, it is the fourth. Between 2005 and 2010 there were three others, now very much out of print, with small distribution, and nearly impossible to find. They had different visions and naturally I think this one is the best yet. Many of the artists were delighted to be included and told me they were honored to be a part of it. Most of the tracks are recent, but for several I reached back a ways, as I wanted the best past and present. I was honored to be able to start off the CD with trailblazer Jayne County. For several of the older tracks I think the artists were surprised I wanted the songs, but I was able to persuade them their song needed be part of this history.
How much of the money will be going the TFA?
JD: All money will go to TFA. I want nothing for doing the producing work and had some incidental costs I will consider my own gift to them. Despite doing radio for 14 years I had never produced a CD, so this was a fun and learning experience. The learning part was one reason we are keeping the project to digital only, at least for the near future.
That was Tim'm T. West with "Male" featuring Sun Rae. The song is available on Tim'm latest album, 'Snapshots: The He​-​Art and Experience of Tim'm T. West'. To purchase 'House Blend', visit the
BandCamp page
. For more about JD Doyle and the Queer Music Heritage, you can visit the
official website
. You can also find them on
Facebook
.