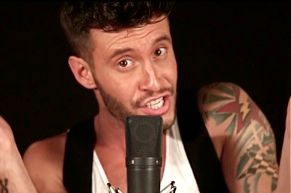 Out and proud artist Mister Chase has a new video up on YouTube, featuring a song off Miley Cyrus' new album, 'Bangerz'. While many have a take on her latest single, "Wrecking Ball", the handsome artist opted to take on another, a song written by Rami Samir Afuni, Maureen "Mozella" McDonald, Miley Cyrus, and Karim Kharbouch. "F U" is an amusing song, one delivered with much conviction by Mister Chase. In fact, this one has already been added to my October playlist, and might be moved to November, too! Ihope you enjoy Mister Chase singing "F U"
If you enjoyed it as much as I did, Mister Chase has made the song available to his fans for FREE on his
SoundCloud page
, where you can just hit the "DOWNLOAD" button. For more about Mister Chase, visit his
official website
. You can also 'like' him on
Facebook
, or 'follow' him on
Twitter
.