I am always excited when I hear about new music, so I was very happy when Dan Paul emailed me about the release of his new album, 'The Make Up'. It seems my buddy JD Doyle of
Queer Music Heritage
suggested Dan contact me, and am I glad he did. But first, I wanted to learn a little bit about the man. Dan grew up a boy with a dream in Dallas, Texas, and he moved to Brooklyn, New York, to pursue a career in music. And as you can tell from the picture above, Dan is a sexy out and proud man who certainly gets my attention right away. But when it comes down to it, it's all about the music, and man, I can't wait to press play on his new album, 'The Make Up'.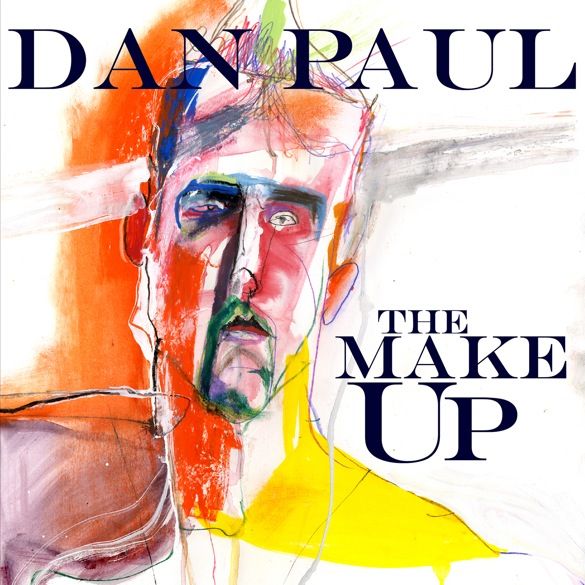 Part of the joy of hitting play with new music, and, in fact, a new musician, is the electricity you feel when you are the verge of discovery. You might not be finding a new planet, or a new continent, but you must might be finding someone who speaks to you, connects with you on a very personal level. I wasn't listening to 'The Make Up' very long before I knew that was the case with Dan Paul. There is a disarming honesty I felt from the start, like Dan was sharing something very personal that could easily be mine to tell. The music Dan Paul makes is really a 'Personalized Pop', and at times 'Confessional Pop', moody and real, telling stories from the heart. With simple instrumentation, the evocative musical landscape can feel moody and dark, or romantic and bright. Paul never shies from looking at his life, staring it down until he makes sense of it. That is obvious from the start, when the first bars of "Come Clean" invites you in to examine why and how we might want to be expel a demon or two. Join Dan Paul in the shower while he looks to "Come Clean".
As a light piano opens "All My Life", followed by Dan's voice, we hear questions we've all asked at several points in life. How do we handle the questions, and our feelings for others? Next up, we have the title song, "The Make Up". Paul explores the literal definition of the term, not the powder or colors of make up, but the very essence of our being that truly means something. It's not the mask we wear, but the life we live that matters. In the next track, Dan reminds me how the soundtrack to our lives, the music we hear, can really be tied to important events. When he broke up with me, what was playing on the stereo? Might it have been "Etta James"? Will it remind me of him for the rest of my life? There is a lovely lightness to the start of "Painted Over Portraits". There is a lovely feeling of prose to the lyrics, capturing a warm memory in words. "You and Me Right Now" continues that warmth, adding harmonies to the mix. There is an introspection that seems to be a preparation to opening ourselves up to others. That brings us to a place for "City Romance", when you can take an honest look at a relationship, and how much someone can mean to you, to your life. Check out the music video for "City Romance".
On "No Patching Up", we instantly know there are problems in paradise. There is the fine line between rumor and reality, and that is a tough spot for any relationship. When this goes too far in a relationship, it leaves a wound that might never be patched up. There is a simple and lovely start to "Catalyst", an introspective song searching for answers. What really draws things together to combust, to trigger what goes on. There is a lovely ethereal moodiness that floats with "Subtle Casting", as much a pastoral elegy as anything else. The final track on album is "City Romance Remix", a driving dance interpretation of the earlier cut. There is an easy sexiness to it, but it still maintains a dreamy romantic quality that I love.
I can't tell you how happy I am JD sent Dan Paul my way. Like every Christmas, there is an excitement to opening every present, but when there is a present that really touches our heart, that really connects to us, there is an extra jolt of something that tells us this was a special gift. That is how I feel when I hit play, and find music that touches my heart, and speaks to my soul. And that is what Dan Paul's 'The Make Up' does, on so many levels. It found it's way onto my iPod, and I don't think it will be coming off any time soon. To learn more about Dan Paul, you can check out his official
Tumblr page
. You can also 'like' him on
Facebook
and 'follow' him on
Twitter
. To download your own copy of 'The Make Up', find it on
iTunes
,
Amazon
, and
CD Baby
.