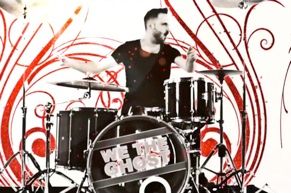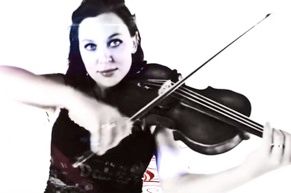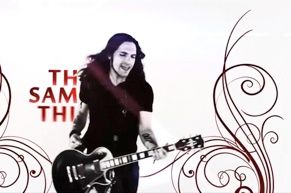 Clockwise: Beau Tyler; Dain Samuelson; Matt McHan; Jocelyn Rowland; and Jimmy Dean Adams.
Tulsa-based band We The Ghost have a new music video out, featuring the title song off their new album, 'Sinking Suspicion'. The video features singer Beau Tyler, drummer Jimmy Dean Adams, guitarist Matt McHan, percussionist Dain Samuelson, and violinist Jocelyn Rowland, all doing what they do best, making fresh music. I bet bassist Ben Mosier was sad he wasn't able to join them, for this music video is hot! The video is a twister of images, with lyrics spinning around the band, before they explode and the pixels twist through the screen like drops of blood from a broken heart. Life deals us all so many change-ups, much like the shifts in beats and tempos, keeping us all guessing. It is the rush of hormones and adrenaline that gives us that rush, which can seem addictive. Now seems the perfect opportunity to check out the handy work of director Kevin Fleming for "Sinking Suspicion".
I get a rush from love, but I also get the blood pumping every time I listening to the music of We The Ghost. The band seamlessly blends influences like Pop, Rock, R&B and Reggae to make a sound that glistens and gleans, leaving me feeling like I am bathing in the afterglow. You can get your FREE DOWNLOAD of 'Sinking Suspicion', the latest album from We The Ghost, from
Bandcamp
. I don't know how much longer it will be available for free, so get it now! To learn more about the band, you can visit the
official website
, 'follow' them on
Twitter
, and 'like' them on
Facebook
. You can find the video on
YouTube
, where you can 'like' it, leave a comment, and share it with your friends!