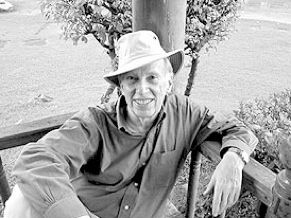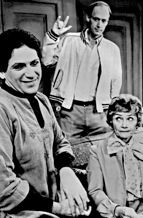 Top: Poster for Torch Song Trilogy. Bottom, left to right: Harvey Fierstein with Joel Crothers & Matthew Broderick; John Glines; Harvey Fierstein, Court Miller, & Estelle Getty
In getting the 'Dark Monday' post together last night, featuring Betty Buckley and the Broadway cast of 'CATS', I also remembered the other incredible event of the 1983 Tony Awards broadcast. I had just moved to Manhattan a few months before, joining Bill to start a new life. We were in a sublet on West End Avenue on the Upper West Side, trying to find an apartment we could afford. We went to a Tony party, and I know I was hoping 'Torch Song Trilogy', an incredible play written by and starring Harvey Fierstein, would win Best Play. I was lucky enough to see it on more than one occasion, a perk of having a boyfriend working at an Off-Broadway theater, and later working at that same theater. But it was nominated in a strong category, with Lanford Wilson's 'Angel's Fall', Marsha Norman's ''night Mother', and David Hare's 'Plenty'. When Harvey won the Tony for Best Leading Actor in a Play, many thought he would not be called out again. But when the time came, we all took a moment to watch as the Tony Award for Best Play was announced.
As the winner was announced, there was joy in the room filled with theater boys, all happy the play was recognized. When producer John Glines spoke, there was an amazing hush, because we were all amazed what he had said. For the first time on the Tony Awards broadcast, a gay man not only acknowledged he was gay, he also thanked his lover. On national television. In 1983. It was like there was a collective intake of breath, we were all so surprised. Glines mentioned his partner, Lawrence Lane, and called him his lover! This was just thirty years ago, yet it seems much longer than that. The gay community was reeling over the reports of the 'Gay Cancer' that was wreaking havoc, and many were frightened. President Ronald Reagan was in office, and he and his administration refused to mention the pandemic, even after it was labeled as AIDS over a year after the 'discovery' of the problem. There was no talk of marriage equality, we were struggling to find a hope that equality of any kind would be coming. Fourteen years after the Stonewall Riots, it seemed as though little progress was made. In fact, many were still recovering from the murder of San Francisco Supervisor Harvey Milk, and the travesty of justice that was the trial of Dan White, whose defense that a junk food binge made him kill Mayor Moscone and Supervisor Milk. To think of how monumental this speech by John Glines felt at the time, it is hard to express.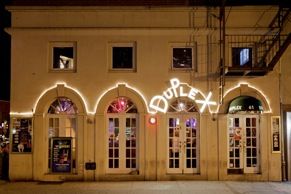 Left, The Duplex. Right, Marie's Crisis Cafe.
A few years later I did meet John Glines, and actually spend some time with him socially with a few friends. I remember John to be such a sweet and kind man, and I was able to tell him how much his speech at the Tony Awards meant to me, and to so many in the theater community, and really to so many kids watching the telecast, realizing they were not alone in this world. John was happy I said something, but really just wanted to have some fun. We'd go with my friend Tracy to the Lion's Head, and then to either The Duplex or Marie's Crisis, and often end up at the Five Oaks. We'd drink, sing at the piano bars, or maybe just sit back and people watch. Looking back, it is amazing to see how far we've come. We have a president who not only have mentioned the LGBT community, but has worked to bring about change. Marriage equality is becoming more common place, and "Don't Ask, Don't Tell" is a thing of the past. Neil Patrick Harris can host the Tony Awards, singing songs about how the show is "Not Just For Gays Anymore", and speak of being a parent, and shock no one. But in June of 1983, John Glines made people sit up and take notice of his speech on the Tony Awards.