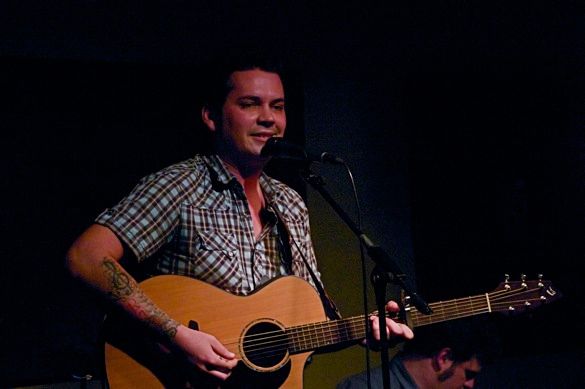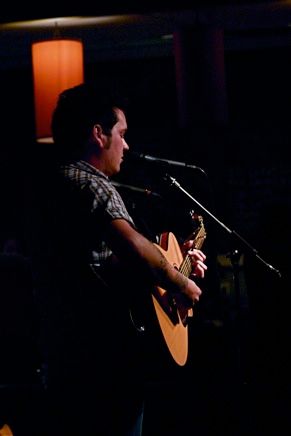 Mike Burns playing at Melodies Cafe in Ardmore.
When I saw that Mike Burns would be playing in the area, I was very excited. I had not had the pleasure of being entertained by Burns before, so that certainly added to the excitement. I loved his music, both his latest, 'Chapter Twenty-Seven', as well as the beautiful 'Courage & Longing'. Mike was on the bill with three other singer/songwriters, so I was just hoping he would have enough time to give us a set of some kind. Once there, I learned it was to be a special 'in-the-round' style night, with each talented artist taking turns. Matt Tarka, James Hearne, and Jared Costa played alongside Burns, each making their own mark on the audience. They all played seven songs each, each taking a turn at the microphone, one song at a time. Melodies Cafe, located in Ardmore, PA, was gracious enough to let the men play later than usual, giving each man a chance to shine. Here is a video of Mike playing his songs, all originals written and recorded by Burns. This is a remix of his show, with stories and songs, all in five minutes!
I had a great time, and was so happy to get to know Mike Burns a bit better after the show, while we spoke. Smart, sensitive and sweet, it was easy to see how he came up with his music. If he is playing in the area anytime soon, count me in among the audience members! For more about Mike Burns, visit his
official website
. You can also 'follow' him on
Twitter
, and 'like' him on
Facebook
. Mike's latest album, 'Chapter Twenty-Seven', is available on
iTunes
,
CD Baby
, and
Amazon
.