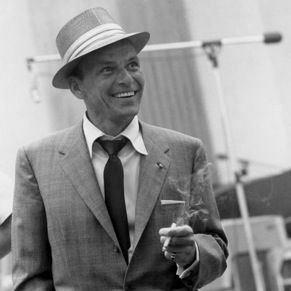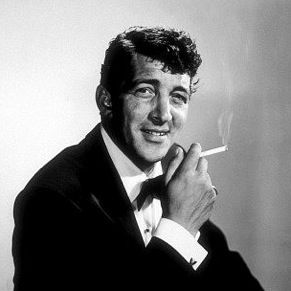 Clockwise: Frank Sinatra, Sammy Davis Jr., Nat King Cole, and Dean Martin.
To change things up a bit, I decided to visit the the Great American Songbook as I do on a Saturday night, but from a slightly different perspective. Since I usual feature some of the amazingly talented ladies from the past century or so, I decided to listen to some men this week. While there are countless men who have sung great music, I decided to go with some of the voices I heard playing on the family record player when I was young. And, as a child of parents from the Philadelphia area, there was no way I could not include Francis Albert Sinatra, for my mother did love his music. Frank Sinatra started his career as part of the group Hoboken Four. The group was on Major Bowes Amateur Hour, the nationally broadcast radio talent show. Soon he left that group, and returned home to New Jersey. Eventually, he made his way as a big band singer, fronting for both Harry James and Tommy Dorsey. He soon moved on to a solo career, starting out the 1940s at the top, a favorite of the bobbysoxers across the nation. He became a movie star, and maintained his recording career for decades to come. In 1964, he released "The Way You Look Tonight", a song written by Dorothy Fields and Jerome Kern. Originally sung by Ginger Rogers to Fred Astaire in the 1936 RKO Radio Pictures musical, 'Swing Time', the song was soon recorded by Bing Crosby and Billie Holiday, quickly becoming a standard. This is Frank Sinatra's recording of "The Way You Look Tonight".
While he was another member of the the famed 'Rat Pack', Sammy Davis Jr. had a long and full career in show business. He started in vaudeville while still a toddler, perfecting his skills as a song and dance man. He served his country during World War II, and returned to vaudeville afterwards. His talent made him a shining star, and soon he would be a recording star. In the 1950s, he made the jump to movie actor, and then to Broadway star. By the end of the decade, he made close friends with Frank Sinatra and Dean Martin, soon to be dubbed the Rat Pack. They made movies, and played shows together in Las Vegas, never disappointing the audience. In 1962, a song was written by Leslie Bricusse and Anthony Newley, and was introduced by Newley in the musical 'Stop The World - I Want To Get Off'. "What Kind of Fool Am I?" was an iconic song, and was quickly recorded by Newley and Tony Bennett. It was also recorded by Sammy, who had a hit with the song, going to #17 on the Billboard Hot 100, and #6 on the Billboard Easy Listening chart. The song won the 1963 Grammy for Song of the Year, on the strength of Davis' recording. It is easy to understand why it was so successful when you listen to it. This is Sammy Davis Jr. singing "What Kind of Fool Am I?".
I remember my mother having Dean Martin albums, when the man was known as 'The King of Cool', his dashing good looks and easy manner projecting a self-confidence that was unmistakeable. Often seen surrounded by beautiful young ladies, with a cigarette in one hand and a drink in the other, Martin was just the man you wanted to watch. Whether he was teaming up with Jerry Lewis making comedy, or recording music, Martin was never far from the spotlight. In 1956 he released the single "Sway", a mambo written by Mexican composer Luis Demetrio, and English lyrics by Norman Gimbel. Dean's version went to #17 on the Billboard Hot 100, and to #6 on the UK Singles chart. The song managed to be both sexy and romantic, and a song for the ages. I do enjoy hearing Dean Martin sing "Sway".
When you think back on the career of Nat King Cole, he was rather impressive. Cole was performing in the jazz clubs of Chicago in the 1930s, and soon his trio was being heard on radio, increasing his popularity. It wasn't too long before his music was being heard on television, and he was having mainstream success with songs like "Straighten Up and Sly Right". By the mid-40s, he was recording Pop music, and was a very popular performer. So popular, in fact, he had his own show, 'The Nat King Cole Show', on NBC. He was the first African American to host a national broadcast. The show lasted just over a year, unable to find a national sponsor. While the ratings were pretty good, it seemed as though advertisers stayed away. About the same time, the musical tastes changed, as Rock 'N Roll was taking over the charts, leaving crooners like Cole, Martin, and Sinatra to struggle for airplay. It didn't stop Cole, for he had hits like "Ramblin' Rose" and "Let There Be Love". In fact, I love his version of the latter song, composed by Lionel Rand with lyrics by Ian Grant. The song, written in 1940, was given new life by his Jazzy interpretation, that managed to be both flirty and smart. I certainly hope you love Nat King Cole singing "Let There Be Love" as much as I do!
Have a great weekend!