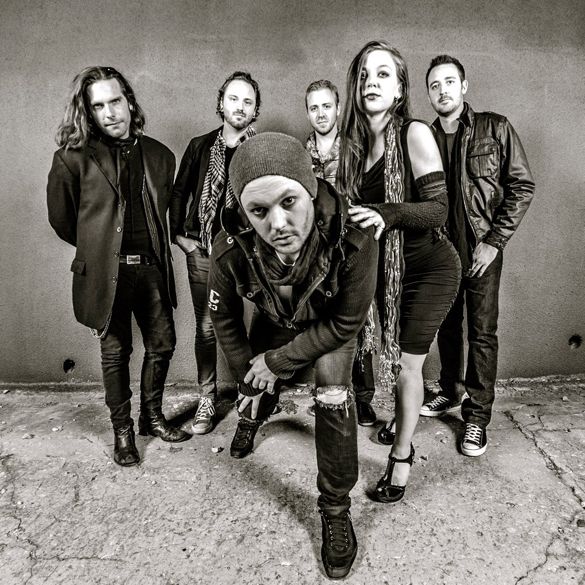 L to R: Matt McHan, Jimmy Adams, Beau Tyler, Dain Samuelson, Jocelyn Rowland, and Bennett Mosier
I first became familiar with We The Ghost, the Tulsa-based Pop/Rock band that manages to create hybrid music which defies categorization, with just diverse influences as Maroon 5, Bob Marley, Nas, Trevor Hall, Jay-Z, Matisyahu, and Coldplay. Their sound utilizes a stylized acoustic approach, offering a laid-back feel that still maintains a crisp edge. My introduction was through drummer Jimmy Adams, who I got to know through his playing bass in Eric & the Adams with his talented sister Angel and the amazing Eric Himan. I remember him excitedly sharing some new tracks he had worked on with bandmates lead vocalist/guitarist Beau Tyler and Djembe player Dain Samuelson. The band has grown some, adding Matt guitarist McHan, violinist Jocelyn Rowland, and bass player Bennett Mosier. It has been amazing to watch the band grow, from first finding their way as a trio, to the emergence of a 6-member band with their own sound and a fan base that grows exponentially with each passing day. I could not wait to to hear the latest from We The Ghost, 'Sinking Suspicion'.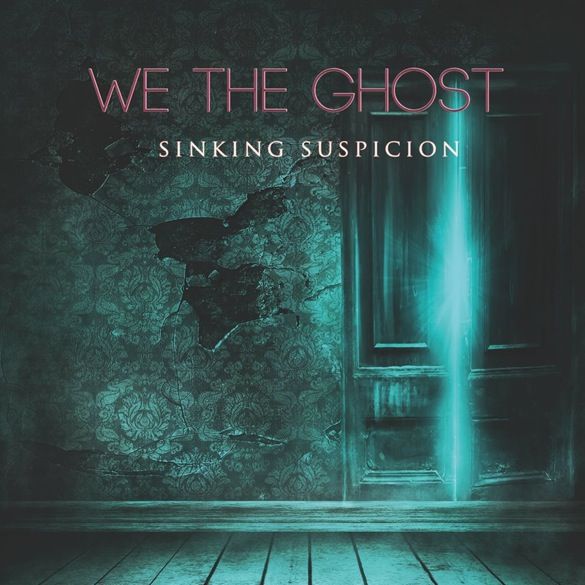 The new album, out on October 15, 2013, maintains the trademark sound, but adds a little more polish without losing their sharp edge. It is much like putting a spit-shine on your Doc Martins, making them feel fresh yet never looking like you've been shopping at the designer outlet. When I put on my best boots to go out, I am not looking to hear the string quartet, right? When I hit 'play' on the new album, 'Sinking Suspicion', I want to hear We the Ghost, and thankfully, that is just what I get. The album kicks off with the title cut, "Singing Suspicion". With an aggressive drum and bass, paired with sweet strings, the song perfectly captures the duality of the band. They actively and effectively add layers and textures of music to create their sound. On "Bad Girl", I get a bit of a ska, a little Hip Hop, and a whole bunch of attitude. That is followed by "Let Me Know", a song about love first introduced last year, but took some time to grow before landing here. I love this song, with a wonderful honesty that is hard to miss. When I first started listening to "In Another Life", which also features vocals by with Sarah Hutchinson, I felt an uncontrollable urge to have Kelly Clarkson join in. It just seems so ripe for that. Tell me what you think of the track "In Another Life".
From the first note, there is just something so energetic and upbeat with "Come Down", I can't control my shoulders, and soon I am dancing in my chair. I am throwing my arms in the air, snapping my fingers with the beat. Even the beat changes only give me the chance to a bit of attitude to the non-existent camera. Although "Take Somebody Home" starts with a restrained feel and beat, the energy soon kicks it up. The need for human contact, to feel someone next to you can be hard to deny, not if you are being honest with yourself. There is a bit of aural rumbling at the start of "Go", like there was something brewing. But the time the chorus kicks in, we know it was the tumult of emotions, fighting the hurt and pain until the healing begins. There is something ethereal about the opening of "Letters to God", but it soon gives way to a river of emotions and experiences, all looking for a chance for healing. This is "Letters to God".
I can't help but listen to We The Ghost and feel like we are hearing a band destined to be heard on a grander scale, a larger stage. The music remains honest and real, with a truly organic feel. It speaks to me on both mental and physical levels, at time touching my heart, and others making me move. Much of the time, I am doing both. You can get your FREE DOWNLOAD of 'Sinking Suspicion', the latest from We The Ghost, from
Bandcamp
. To learn more about the band, you can visit the
official website
, 'follow' them on
Twitter
, and 'like' them on
Facebook
.