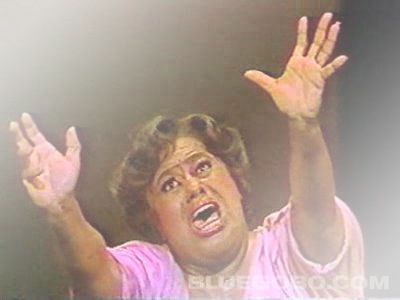 Although she is most famous for a role she took on Broadway in 1982, Jennifer Holliday has repeatedly shown she has a voice that can handle just about anything, and that means Gospel, too. Best known for playing Effie in
Dreamgirls
, and stole the show when she performed
And I'm Telling You
, and also collected a Tony Award for her performance, as well as a Grammy for the recording. You can see that performance
here
. First I thought we would visit a 1987 performance on
A Gospel Session
, singing a song written in 1905 by lyricist Civilla D. Martin and composer Charles H. Gabriel. His Eye Is On The Sparrow is a great gospel classic, and sung beautifully by Holliday.
In the 1990s, Holliday had health issues take the forefront, and during that period lost weight. She kept the weight off, as you can see in this fan video of a 2010 performance in Brooklyn , NY. Jennifer sings a song made famous by another "Holiday", Billie. God Bless The Child was written by Billie Holiday and Arthur Herzog, Jr. in 1939, first recorded on May 9, 1941. Here Jennifer sings it with the beauty and soul it was meant to have.
Finally, Holliday sings a Christian hymn with lyrics written by the English poet and clergyman John Newton (1725–1807), published in 1779. This was recorded last December 2011, showing that she still has it in her fifties, and delivers with
Amazing Grace
.
You can purchase
Goodness & Mercy
, a Gospel album Holliday released last year, on
iTunes
and
Amazon
.