I wish I could offer wise words to those watching Idol this season, at least when it comes to what we shall see tonight. I thought it wasn't a great night of performances from the Top 8, and I wouldn't be surprised if one or two of the good performances are given a trip to the bottom three. As someone who loved the 1980s and the music, I thought they blew it, and didn't really find some of the music that would have worked so well for their voices. But then again, no one asked for my advice. But FYI, there were plenty of songs that could have worked with Colton's whiny voice, or helped Elise explore her dark rocker side.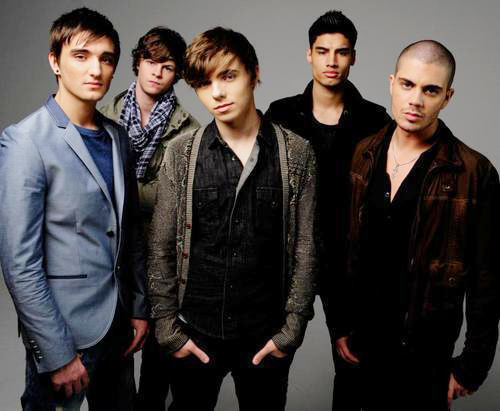 The show begins with a clip that seems to be setting up a surprise, the proverbial thought that anyone can go home. I agree, I am not sure what will happen tonight. I could easily imagine four or five of the Top 8 to be in the Bottom 3, and know the judges have a "Save" that is burning a whole in their pocket. So anybody could be going, or no one... Crusty announces that UK Pop sensations, The Wanted will be on the show, along with Idol Alum Kellie Pickler. But first, we got a sneak peak of the latest video by Jennifer Lopez,
Dance Again
. And once again she has Pitbull on board to offer some rap.
No, that wasn't them, but it did make me laugh. The Ford music video tonight brought out some cute moments for the Idols. The song was
Alright
by Supergrass. It was adorable.
Crusty tells us we will be discovering the results in pairs, by the duets from last night.
Joshua
and
Jessica
are the first to hear their fate. Jimmy I thinks that Joshua is keeping it under control and was great. He gives him a 10. I roll my eyes. Jimmy didn't like Jessica's song choice, and thought Joshua won the battle between the powerhouses. First we hear that Joshua is safe. And so is Jessica. After a commercial break, Crusty introduces The Wanted, who came over to perform their big song,
Glad You Came
.
The girls in the pit went crazy for the cute British boyband, throughout the song, and especially afterwards, when the boys reached out to them. I am grateful I don't have to write about their performance. Another commercial break means more results upon return. Crusty calls
Skylar
and
Colton
to center stage. Jimmy I thought Skylar was great last night, and loved her. Jimmy thought Colton was a bit lacking. After chatting with them a bit,
Hollie
and
DeAndre
were asked to join them on the stage. Jimmy I was mean about Hollie, and giving a cheap shot to DeAndre at the same time. He also called out the judges as wrong. DeAndre is the first one we hear about, and he is sent to the Bottom 3. Colton is safe, and I shake my head. That leaves the two girls, and Skylar is sent to safety, but Hollie is sent to join DeAndre. After yet another commercial break, we get to hear from Season 5 contestant, Kellie Pickler, performing her latest single,
Where's Tammy Wynette?
Pickler has always had a certain charm, and it remains there. She's had some success in Country music, which should bode well for Skylar, who is a far better singer. She gives all the contestants a hug, bringing us to another commercial. I am happy I can talk about her charm, and not that awful song she sang. After the break,
Elise
and
Phillip
are called on stage. Jimmy I thinks last night was a good night for Phillip, and I can't agree - I thought it was horrible. He says Elise had the right song, she just choked. One of the two will be safe, but it is not Elise, who is sent to the bottom three. Phillip is safe. And so is Hollie, we are told. After the break, we come back for the result. All three judges are asked if this is right, and they say no it isn't. The person with the fewest votes is DeAndre, who will sing for his life. He pulls out
Master Blaster
, the Stevie Wonder song. It is a shame, I thought he has one of the best performances last night, no matter what Jimmy I said. When asked, Jennifer tells him she only has one vote, and he won't be saved tonight. I didn't think they would use it for him. Good luck, DeAndre.