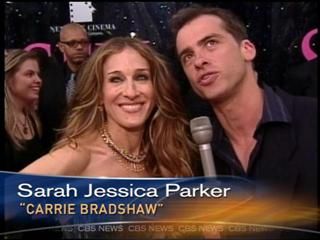 Since I first saw this young man on
CBS News On LOGO
, I have been a fan. He is bright, clever and an out gay man. And it certainly doesn't hurt he has those dashing good looks. But I can be really goofy when it comes to smart men, and while I've never met him, he certainly gives me that impression when I have seen him on TV, and when he has posted online. I have seen him do many stories about a variety of things, and he always seemed to have a handle on the topic. Now that is sexy. But in case you aren't familiar with his work, check out this clip.
Itay – pronounced 'ee-tie' – was born in Israel, and says he owes his parents a debt of thanks for teaching him to speak English free of any accent. He has a Masters degree in journalism from Columbia University School of Journalism. He has worked on many hard-hitting news stories, as well as covering some of the more glamorous. To give you a taste of his work, I'll begin with a clip when he attended the premiere for the
Sex And The City
movie.
He also caught up with a young actor/dancer early on in their Broadway career. Back then, Nick Adams was a build guy in the chorus, but he has since gone on to several other shows, including a recent run with
La Cage Aux Folles
, and at the moment, is touring with
Priscilla, Queen of the Dessert
as it prepares for a Broadway run. Here is Itay's interview with Nick Adams.
And I couldn't let the interview list be complete without his interview with the amazing Annie Lennox. After all, this is a music blog, right?
Finally, I'll leave you with an interview that I find uncontrollably hot. Itay interviewed Ivri Lider for LOGO, and I remember catching it on my TV, and not being sure who I should be watching.
So, Happy Birthday, Itay Hod. For more about Itay, you can find him on FaceBook for a fanpage
here
, and on Twitter
here
.