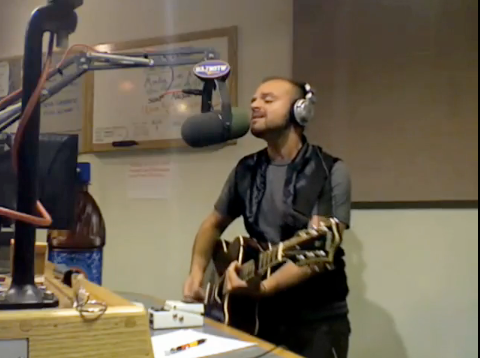 Here in Delaware, we are lucky enough to have a radio station, WSTW, 93.7 on the FM dial, which features a weekly Sunday night broadcast that spotlights local musicians on air. The host, Mark Rogers, does a great job interacting with the performers, and allowing them a comfortable place to showcase their music. He performed a then untitled song, since gaining a title -
Crashing Down
. As is always the case, Aiden is in amazing voice for the performance.
Aiden is in the studio working on a new album. In order to get this accomplished, he is looking for some assistance in getting it the funding. Like so many of the independent musicians, he has set up a page where you can give money, and in return, you will be getting something as well, depending on the amount you give. That site is
here
. You can donate anywhere from $5 to the sky's the limit. Check out this new song Aiden has written, and might very well end up on the new album. It is
On My Sleeve
.
With a donation of $25 or more, you will get an autographed advance copy of the album. For a donation of $50, you will receive that as well as a signed copy of his album
On The Run
. For $75, you will get the above, a signed tour poster, and your name will be on the guest list at a show of your choice. Well, you get the idea, you money will get you something in return. Check it out
here
! If more encouragement might help, how about this amazing video for the title single
On The Run
?
I know I post about this from time to time - but I think it is important to support the great talent we have in the LGBT community. It is an investment in my future happiness, because it means I will be getting more great music in my life. Singer/songwriters like Aiden need our support, like buying their music and attending their shows, to make a living, and put out the next album. Whether you buy the music on iTunes, CDBaby or the artists' website, or buying the CD at the live show, it is all good. Or maybe a tour t-shirt is more your thing? If you are going to buy the album anyway, why not put your money upfront and get yourself an autographed copy?
And, did I mention how great it feels to support the performers? To know you've had a hand in helping great music being made is a great feeling. I may not be able to play an musical instrument or carry a tune, but I can support those that can. And you know what? You can too! In fact, you can do it now, right
here
.