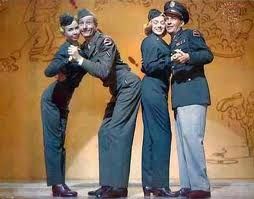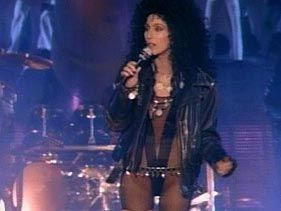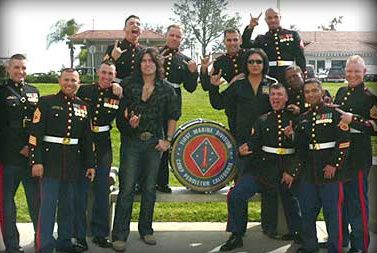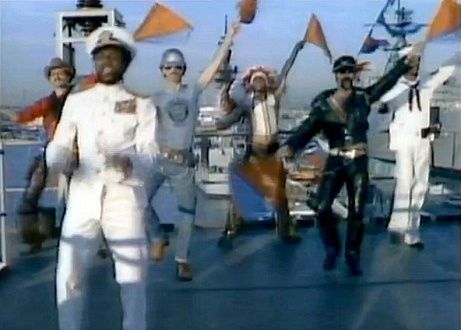 Clockwise from Top Left: White Christmas scene, Cher, Village People & Gene Simmons & Friends.
As we in the United States give our thanks to the men and women who have served this country in the armed forces. And by saying that, I mean all people, gay and str8. I thought I would try to celebrate it the way I do best here at this blog, with music. One of my favorite military-themed musical numbers comes from the movie
White Christmas
. The song,
Gee, I Wish I Was Back In The Army
, featured the musical talents of Danny Kaye, Bing Crosby, Rosemary Clooney, and Vera-Ellen. It had quite the sense of humor, and some fun music and props!
Of course, few tributes to the men and women in the armed forces could top Cher's in her video for
If I Could Turn Back Time
. I mean, what means military more than an aircraft carrier, a group of sailers in their dress whites, a woman in a body stocking with a well-placed ribbon and a leather jacket? Not to mention the rather large and protruding artillery...
Gene Simmons had his own tribute to the armed forces a couple of years ago, although it was not as sexy as Cher's, it was still heart-felt and quite fun.
Of course, I would be unable to do this post without the tribute to the armed forces from the Village People, and their iconic
In The Navy
. Unlike in Cher's video, I would have to think the appearance on the battleship was not endorsed by the Navy, but the flag routine is worth the cost of admission!
Happy Veteran's Day!