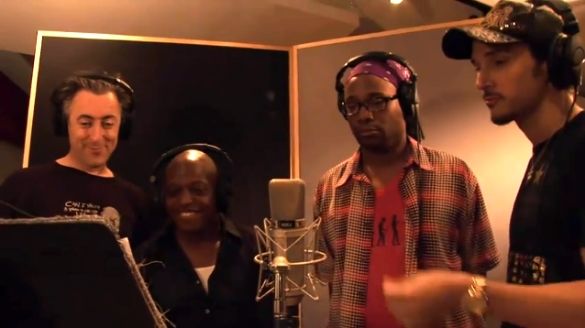 L to R: Alan Cumming, David Raleigh, Billy Porter & Ari Gold.
On the 25th anniversary of the Dionne Warwick (and friends) hit song, "That's What Friends Are For", David Raleigh, Alan Cumming, Billy Porter and blog favorite Ari Gold came together to remake it to raise money for the Ali Forney Center, a New York City shelter for homeless GLBT youth. David is a New York City-based singer/songwriter and piano player, and Cumming is an Emmy nominated and Tony Award winning actor and producer, Porter is a very successful Broadway performer and singer, and Gold is and independent Pop sensation. The song was written by Burt Bacharach and Carole Bayer Sager, who have written so many great songs. Together, the group of men make magic here, and once I heard it, I just wanted have it on my iPod. Now I do! Here is the video for the song, produced by Nathan Leigh Jones and directed by Michael Akers.
The proceeds from each download go to Ali Forney Center, so go
iTunes
to purchase it. To find out more about the Center, check out their
official website
.