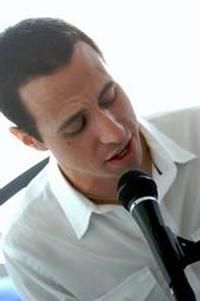 I have to admit my discovery of Avi Wisnia is an odd path, especially since it turns out the man is not all that far from me, being based in both New York and Philadelphia. As an avid fan of Nhojj, I follow him on Twitter, and he had given a link to RightOutTV, which can be found
here
. Nhojj had videos playing there, as did several other artists. One of those videos was
Rabbit Hole
by Avi Wisnia, and I have to admit I was crazy about it. So I took to the 'net, and did a bit of research. He was from the Philadelphia area, and just released an album this past June. He has played some of the clubs in Philadelphia I have been gone to see others performers. I also quickly noted he is an out and proud performer, something that piqued my interest more.
So I went off to iTunes to check out
Something New
, his June 2010 release. I had already seen the video for
Rabbit Hole
, and was charmed by the combination of throwback nostalgia with the current I found in the video. To think of it as quirky would diminish the talent of a young man combining jazz stylings with piano pop with a South American Bossa Nova beat. Check out the video for
Rabbit Hole
.
Something New
is a 12-song effort that includes a variety of material, from a few cover songs to original material written by Wisnia. The covers include a jazzy telling of
Love Song
by one of my favorite bands, The Cure, and a catchy and smooth jazz-inspired version of TLC's
No Scrubs
. You can catch a short clip of the TLC song here from a recent performance.
The self-penned opening song,
New Year
, is much more of a classic pop ballad, more along the lines of Ben Folds, a piano-driven song that cups his lovely vocals quite nicely.
More Than Me
hints more to classic pop, while maintaining a strong feel of the singer/songwriter vibe I love. There is a personal, almost confessional quality to the song
I Wish I Could Stop Writing Songs About You
. It has a fresh, contemporary feel.
Sink
has a bossa nova rhythm, while never sounding gimmicky or false. I just love the song. In fact, as I listen while writing this, I am doing a bit of chair dancing, a true testament to joy. And the songs go on. I am just really happy with them all, and happy to have made the purchase. The following clip is a fan-captured video of Avi singing
Sink
.
From what I can tell, Avi performs in both English and Portuguese, the latter which can be seen in the clip featuring the song Só Danço Samba, which is, not surprisingly, a sexy, playful samba.
For more about Avi Wisnia, you can check out his official website
here
. If you are interested in hearing more, you can check out his ReverbNation page
here
. Sign up to his mailing list, and you can get a few free downloads. If you'd like to check out the previews on iTunes, click
here
. Just a warning: you just might end up loving it, and buying it for your own collection. I speak from experience.